Chateauesque style
Chateauesque style
A house style based on sixteenth-century French chateau mixed with Gothic and Renaissance details, popular for large houses and mansions of the late nineteenth and the early twentieth centuries; the most characteristic details include steeply pitched mansard roofs, dormers with pinnacles, and parapeted gables and turrets.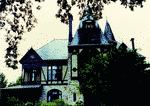 Illustrated Dictionary of Architecture Copyright © 2012, 2002, 1998 by The McGraw-Hill Companies, Inc. All rights reserved
Châteauesque style, Château style, Châteauesque Revival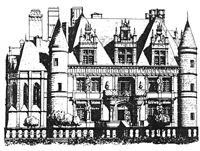 An opulent architectural style patterned after the design of monumental French chateaus of the 16th century; popular in the late 19th century and beyond. Buildings were usually characterized by a façade having masonry walls; an attic story; a single balcony or continuous balconies; prominent use of vertical elements such as pilasters; wall dormers with gables that might break the roof line; cross gables; a
belt course
; an ornately
hipped roof
either steeply pitched to a ridge and/or truncated by a horizontal surface; cast-iron
cresting
on the roof; through-the-cornice wall dormers; roof dormers with pedimented parapets, pinnacles, and spires; a cylindrical corner turret having a conical roof; tall, decorative chimneys and ornamental chimney caps; windows, frequently in pairs, divided by heavy stone mullions; oriels; semicircular bay windows; exterior door set arches; often a canopy was provided over the entry door.
McGraw-Hill Dictionary of Architecture and Construction. Copyright © 2003 by McGraw-Hill Companies, Inc.