Christo
(redirected from Christo and Jeanne-Claude)
Also found in:
Dictionary
,
Wikipedia
.
Christo
(krĭs`tō)

, 1935–2020, Bulgarian-American artist, b. Gabrovo as Christo Vladimirov Javacheff, studied Sofia, Vienna, and Paris. His early experiments in assemblage led to his trademark device of wrapping, obscuring, or otherwise altering familiar objects or landscapes with cloth and other materials, and thus simultaneously concealing, revealing, and transforming them. From 1958 on he worked with his wife and artistic partner, Jeanne-Claude (Jeanne-Claude Denat de Guillebon), 1935–2009, b. Casablanca, grad. Univ. of Tunis, 1952. The two met in Paris and moved to New York City in 1964. A leading figure in conceptual artconceptual art,
art movement that began in the 1960s and stresses the artist's concept rather than the art object itself. Growing out of minimalism, conceptual art turned the artist's thoughts and ideas themselves into the primary artistic medium, appealing to the spectator's
.....

Click the link for more information.

, Christo, in collaboration with Jeanne-Claude and a team of helpers, specialized in large-scale temporary outdoor installations. Running Fence (1976), a shimmering white nylon fabric curtain, was strung more than 24 mi (39 km) across the rolling N California landscape. Other projects included surrounding 11 islands in Florida's Biscayne Bay with floating hot-pink fabric (1983), wrapping the Pont Neuf in Paris (1985), concurrent installations of thousands of 20-ft (6-m) tall umbrellas—blue near Tokyo and yellow near Los Angeles (1991), and wrapping Berlin's Reichstag in silvery fabric (1995). On the paths of New York City's Central Park the two created (2005) The Gates, a meandering installation of more than 7,500 rectangular, 16-ft-tall (5-m) gates, each hung, to about halfway down, with a saffron-colored fabric panel. The Floating Piers (2016), a saffron walkway across Italy's Lake Iseo to its main island and an islet, was Christo's first major project after Jeanne-Claude's death. The London Mastaba (2018), a 66-ft-tall (20-m) trapezoidal pyramid afloat in a Hyde Park lake, was composed of 7,506 painted, horizontally stacked barrels.
Bibliography
See dual biography by B. Chernow (2002); studies by D. Laporte (1986), J. Schellmann and J. Benecke (1988), M. Vaizey (1990), and J. Baal-Teshuva (1995); D. and A. Maysles, dir., documentary films: Christo's Valley Curtain (1974), Running Fence (1978), Islands (1986), Christo in Paris (1990), and Umbrellas (1995).
The Columbia Electronic Encyclopedia™ Copyright © 2013, Columbia University Press. Licensed from Columbia University Press. All rights reserved.
www.cc.columbia.edu/cu/cup/
Christo
(1935–)

Born Christo Vladimirov Javacheff in Bulgaria and married to Jeanne-Claude (1935–2009), who together created environmental works of art. Their work included wrapping of the Reichstag in Berlin, and the Pont-Neuf Bridge in Paris, the 24-mile Running Fences in Marin County, CA, and The Gates (illus.), in New York's Central Park.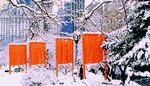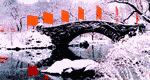 Illustrated Dictionary of Architecture Copyright © 2012, 2002, 1998 by The McGraw-Hill Companies, Inc. All rights reserved
Christo
full name Christo Jaracheff. born 1935, US artist, born in Bulgaria; best known for works in which he wraps buildings, monuments, or natural features in canvas or plastic
Collins Discovery Encyclopedia, 1st edition © HarperCollins Publishers 2005