Cineole
Also found in:
Dictionary
,
Medical
,
Wikipedia
.
The following article is from The Great Soviet Encyclopedia (1979). It might be outdated or ideologically biased.
Cineole
(also 1,8-cineole, eucalyptole), a terpene oxide having the structural formula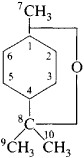 Cineole is a colorless liquid with an odor similar to camphor and ether. It is soluble in alcohol and ether but only slightly soluble in water. Cineole has a melting point of 1–1.5°C, a boiling point of 176–177°C, and a density of 0.923 g/cm3 at 20°C.
Cineole is obtained from many essential oils, especially eucalyptus oil; it is isolated from these oils by distilling them and then freezing out the portion that has a boiling point between 170°C and 180°C. Cineole is used in medicine and cosmetics as a component of antiseptics, expectorants, toothpastes, and elixirs.
The Great Soviet Encyclopedia, 3rd Edition (1970-1979). © 2010 The Gale Group, Inc. All rights reserved.