tandem switch
(redirected from Class 4 switch)
tandem switch
A telephone central office switch that links telco end offices together and does not connect to the customer directly. Also called a "Class 4 switch" or "TDM switch," a tandem switch is a computer that is specialized for TDM-based, circuit-switched telephone calls. Tandem switches are typically from Lucent and Nortel Networks (see ESS and DMS).

In the past, most of the call recording and billing was handled by tandem switches, also called "toll/tandem switches." Subsequently, such services were taken over by end office switches.

Sector and Access Tandems
A sector tandem switch connects end offices for intraLATA traffic, while an access tandem switch provides the connection between end offices and the POPs for interexchange carriers (IXCs).

In the past, Class 4 tandem switches dealt only with high-speed, four-wire T1, T3 and OC-3 connections in contrast to two-wire local lines on Class 5 end office switches. Subsequently, all switches were made to support four-wire lines. See end office switch and LATA.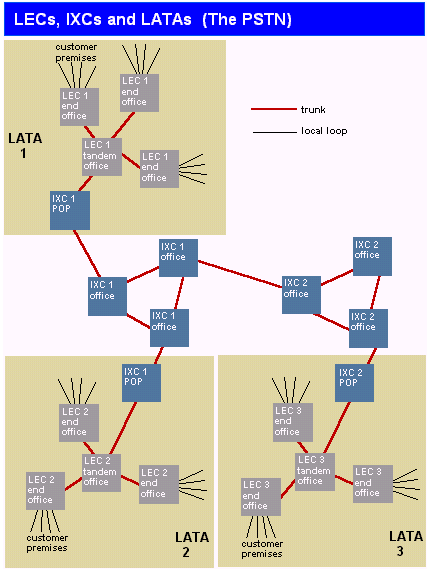 Sector and Access Tandems
The switches in the tandem offices in the center of each of the LATAs in this illustration are providing both traditional sector tandem services (intraLATA) between local end offices and access tandem services to IXCs (interLATA).
Copyright © 1981-2019 by The Computer Language Company Inc. All Rights reserved. THIS DEFINITION IS FOR PERSONAL USE ONLY. All other reproduction is strictly prohibited without permission from the publisher.