cloud computing
Also found in:
Dictionary
,
Thesaurus
,
Medical
,
Legal
,
Financial
,
Wikipedia
.
cloud computing,
the delivery of shared computing resources over a network in a manner that makes accessing and configuring those resources convenient and largely independent of the use of a required location, device, and the like. Although paralleling in some ways the use of multiple terminals to access mainframe computers and client-server computer networks, cloud computing is distinguished from them by the relative ease of access to the computing resources, which may be shared by many individuals and organizations using a wide range of devices, and the relative ease with which these users may increase (or decrease) the type and volume of computing resources to which they have access. Cloud-computing resources, which include both hardware infrastructure, such as data storage, servers, and networks, as well as operating systems, computer programs, and services provided by such programs, are typically provided over the Internet by third-party companies.

Individuals, for example, may subscribe to services that allow them to use an Internet connection or a cellular phone network to upload and store files, whether documents, music, or pictures, on the services' computer servers. These files may then be accessed by the individual in another location on a different device, or the individual may permit others to access and download the files. Computers, tablets, and smartphones, using either web browers or specialized applications, can be used to access the files as long as they can establish a connection to the service's network. Internet music services, blogging and social-networking websites, and email services all provide direct consumer services using the resources of cloud computing.

Businesses may subscribe to a range of cloud-computing services, such as offsite data storage, hosting services for running web applications, an email service, or a suite of business applications. Cloud computing allows a company to readily increase or decrease the computing resources to which they have access based upon the company's changing needs. Costs may be reduced if a company pays only for the software and hardware resources that they need at a given time instead of making significant investments in computers, software, and support personnel that may be underutilized much of the time. Companies may have concerns about the security and privacy of their data when it is stored on a provider's servers, but in the case of smaller companies, a large provider of cloud-computing resources may be better equipped to provide security. Another cloud-computing concern is the possible interruption of a company's access to its applications and data, though this can be avoided to some degree through the establishment of appropriate redundancies. Some larger companies create so-called private clouds to provide computing resources from a common corporate pool to individual business units within the company, with the provision of these resources based on the changing needs of the business units.

The Columbia Electronic Encyclopedia™ Copyright © 2013, Columbia University Press. Licensed from Columbia University Press. All rights reserved.

www.cc.columbia.edu/cu/cup/
cloud computing
Hardware and software services from a provider on the Internet (the "cloud"). Cloud providers replace in-house operations and are invaluable for companies, no matter their size or type of applications. Cloud computers are servers that can be configured to handle tiny or huge amounts of traffic and expand or contract as needed. The cloud eliminates the security, maintenance, network and environmental issues with home grown datacenters. For the in-house version of cloud computing, see intranet.

Is Every Internet Function Cloud Computing?
Not exactly. Websites, email, automatic updates, backup, photo storage, streaming, virtually anything over the Internet might be considered cloud computing because a cloud is a network, and the Internet is the biggest network there is. However, technically, cloud computing comprises the following two services, which replace software installed in the user's computer with online access. See cloud.

Software Service
Cloud computing started with software as a service (SaaS), which offers online business applications by subscription. Everything is managed by the cloud provider and accessed online via the Web browser, which is generally the only application required in the user's machine.

Hardware Service
Secondly, tech giants such as Amazon, Google and Microsoft, with years of experience running huge datacenters, began to rent time on their servers, allowing companies a viable alternative to housing their own. Amazon is the largest. See Amazon Web Services, Google App Engine and Windows Azure.

Cloud Computing Features
(Self Service) The customer sets up an account online and manages the process from start to finish.

(Scalability) Both users and servers can be easily added and deleted.

(Speed and Reliability) Multiple cloud datacenters and network backbones provide fast response times and fault tolerance.

Software as a Service (SaaS)
After the Web became popular in the late 1990s, for the first time, SaaS providers offered business applications to the end user online, eliminating routine and error-prone in-house software maintenance. Salesforce.com was notably one of the first. Customers pay by the number of users. For the IT department, this was a paradigm shift. However, every solution generates other problems. When data are stored outside the company, there are security and privacy issues.

Infrastructure as a Service (IaaS)
Also called "cloud hosting" and "utility computing," IaaS provides the bare server hardware, or the hardware plus a virtual machine (VM), which is one partition in a server shared by many customers. IaaS customers upload all the software, from OS to applications. See virtual machine and software stack.

Platform as a Service (PaaS)
PaaS includes the server hardware, operating system and database, plus all necessary system software to run applications (the "stack"). With IaaS and PaaS, customers pay by some combination of server size, speed, storage capacity and network time (uploads and downloads). See stack, runtime engine and system software.

Function as a Service (FaaS)
FaaS includes the server hardware at the most granular level. FaaS customers pay only for the time it takes to execute specific tasks (see serverless computing).

The Virtualization Foundation
Cloud datacenters employ server virtualization, which, among other benefits, allows workloads to be added and removed as self-contained modules. IaaS and PaaS customers require technical skills to configure these functions. It is safe to say that without virtualization having become mainstream in the IT world, cloud computing would not have emerged. See server virtualization and virtual machine.

Private and Hybrid Clouds
Enterprises can create private clouds in their datacenters that employ the same cloud computing infrastructure used on the Internet. The private cloud provides the same flexibility and self-service capabilities, but with control of privacy.

A hybrid cloud is both private and public. Companies may decide to keep certain applications in-house while deploying others to the cloud. In addition, if the private cloud is overloaded, applications can be activated temporarily on the Internet cloud; for example, during the holidays for an e-commerce website.

Extending software and databases from internal servers to a provider's servers and managing both venues from a central console are major issues in cloud computing administration. See private cloud, fog computing, cloud management system, multicloud, personal cloud, Windows Azure, thin client, cloud storage, colocation, Open Cloud Manifesto and Web application.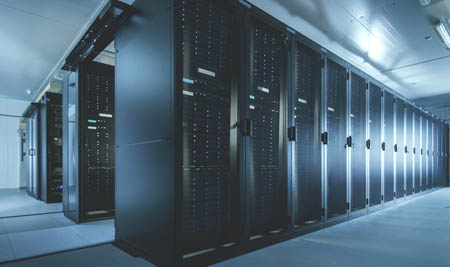 A Cloud Computing Facility
A cloud datacenter is mostly rows of rack-mounted servers that are in an unlit room until an engineer needs to perform maintenance. See rack mounted.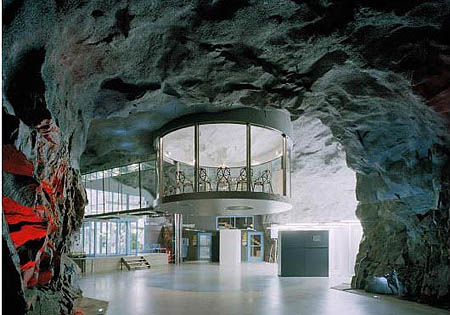 Avoiding Natural Disasters
Housed in the former Pionen civil defense center 100 feet below Vita Berg Park in Stockholm, Bahnhof AB offers Internet access and a variety of cloud computing services in one of the world's most unique and secure datacenters. (Image courtesy of Bahnhof, AB, www.bahnhof.net)
Copyright © 1981-2019 by The Computer Language Company Inc. All Rights reserved. THIS DEFINITION IS FOR PERSONAL USE ONLY. All other reproduction is strictly prohibited without permission from the publisher.