Coanda effect
Also found in:
Medical
.
Coanda effect
or
wall-attachment effect,
the tendency of a moving fluid, either liquid or gas, to attach itself to a surface and flow along it. As a fluid moves across a surface a certain amount of friction (called "skin friction") occurs between the fluid and the surface, which tends to slow the moving fluid. This resistance to the flow of the fluid pulls the fluid towards the surface, causing it stick to the surface. Thus, a fluid emerging from a nozzle tends to follow a nearby curved surface—even to the point of bending around corners—if the curvature of the surface or the angle the surface makes with the stream is not too sharp. Discovered in 1930 by Henri Coanda, a Romanian aircraft engineer, the phenomenon has many practical applications in fluidicsfluidics,
branch of engineering and technology concerned with the development of equivalents of various electronic circuits using movements of fluid rather than movements of electric charge.
.....

Click the link for more information.

and aerodynamicsaerodynamics,
study of gases in motion. As the principal application of aerodynamics is the design of aircraft, air is the gas with which the science is most concerned. Although aerodynamics is primarily concerned with flight, its principles are also used in designing automobile
.....

Click the link for more information.

.

The Columbia Electronic Encyclopedia™ Copyright © 2013, Columbia University Press. Licensed from Columbia University Press. All rights reserved.

www.cc.columbia.edu/cu/cup/
Coanda effect
[

kō′an·də i′fekt

]

(fluid mechanics)

The tendency of a gas or liquid coming out of a jet to travel close to the wall contour even if the wall's direction of curvature is away from the jet's axis; a factor in the operation of a fluidic element.

McGraw-Hill Dictionary of Scientific & Technical Terms, 6E, Copyright © 2003 by The McGraw-Hill Companies, Inc.
Coanda effect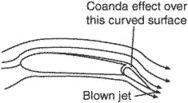 The effect of a jet of air blowing out from an airfoil, or another shape, and reacting with air passing. The air tends to stick to the solid surface even if it curves away, avoiding separation or stall.
An Illustrated Dictionary of Aviation Copyright © 2005 by The McGraw-Hill Companies, Inc. All rights reserved