Cogeneration
Also found in:
Dictionary
,
Medical
,
Wikipedia
.
cogeneration
[

'kō'jen·ə′rā·shən

]

(mechanical engineering)

The simultaneous on-site generation of electric energy and process steam or heat from the same plant.
Cogeneration
The simultaneous production of electrical or mechanical energy (power) and useful thermal energy from the same fuel/energy source such as oil, coal, gas, biomass, or solar panels. Conventionally, heat is emitted through cooling towers or flue gas is lost, but cogeneration makes use of that heat. A cogeneration plant is often referred to as a combined heat and power plant.
Cogeneration
The sequential production of electricity and thermal energy in the form of heat or steam, or useful mechanical work, such as shaft power, from the same fuel source. Cogeneration projects are typically represented by two basic types of power cycles, topping or bottoming. The topping cycle has the widest industrial application.
The topping cycle utilizes the primary energy source to generate electrical or mechanical power. Then the rejected heat, in the form of useful thermal energy, is supplied to the process. The cycle consists of a combustion turbine-generator, with the turbine exhaust gases directed into a waste-heat-recovery boiler that converts the exhaust gas heat into steam which drives a steam turbine, extracting steam to the process while driving an electric generator. This cycle is commonly referred to as a combined cycle arrangement. Combustion turbine-generators, steam turbine-generator sets, and reciprocating internal-combustion-engine generators are representative of the major equipment components utilized in a topping cycle. See Generator, Steam turbine, Turbine
A bottoming cycle has the primary energy source applied to a useful heating process. The reject heat from the process is then used to generate electrical power. The typical bottoming cycle directs waste heat from a process to a waste-heat-recovery boiler that converts this thermal energy to steam which is supplied to a steam turbine, extracting steam to the process and also generating electrical power. See Electric power generation
Cogeneration for building and district space heating and cooling purposes consists of producing electricity and sequentially utilizing useful energy in the form of steam, hot water, or direct exhaust gases. The two most common heating, ventilating, and air-conditioning cycles are the vapor compression cycle and the absorption cycle. See Air conditioning, Central heating and cooling
cogeneration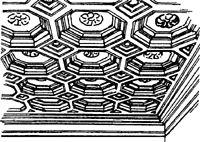 In a building, the on-site electric power generation utilizing both the electrical power and steam or hot water which is developed; in some municipalities in the US, if excess electrical power is generated, it may be sold to the utility.