Scone
(redirected from Colenden)
Also found in:
Dictionary
,
Thesaurus
.
Scone
(sko͞on)

, village, Perth and Kinross, central Scotland. Old Scone, west of the modern village of New Scone, was the repository of the Coronation Stone (see under coronationcoronation,
ceremony of crowning and anointing a sovereign on his or her accession to the throne. Although a public ceremony inaugurating a new king or chief had long existed, a new religious service was added when Europe became Christianized.
.....

Click the link for more information.

) and the coronation place of Scottish kings from Kenneth I to Charles II. The 12th-century abbey, razed by Protestants in 1559, stood on the site of the present-day Scone Palace (built 1803–8).

The Columbia Electronic Encyclopedia™ Copyright © 2013, Columbia University Press. Licensed from Columbia University Press. All rights reserved.

www.cc.columbia.edu/cu/cup/
split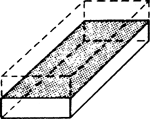 1. A rupture in a built-up roof membrane, resulting from tensile stresses.
2. A crack that extends completely through a piece of wood or wood veneer.
3.
A brick cut lengthwise, in two pieces, parallel to the wide face of the brick, so that it is half as thick; also called
scone.
McGraw-Hill Dictionary of Architecture and Construction. Copyright © 2003 by McGraw-Hill Companies, Inc.
Scone
a parish in Perth and Kinross, E Scotland, consisting of the two villages of New Scone and Old Scone, formerly the site of the Pictish capital and the stone upon which medieval Scottish kings were crowned. The stone was removed to Westminster Abbey by Edward I in 1296; it was returned to Scotland in 1996 and placed in Edinburgh Castle. Scone Palace was rebuilt in the Neo-Gothic style in the 19th century
Collins Discovery Encyclopedia, 1st edition © HarperCollins Publishers 2005