color correction
(redirected from Colour correction)
color correction
[

′kəl·ər kə′rek·shən

]

(graphic arts)

Any method used to improve color rendition; for example, masking, dot etching, reetching, and scanning.

(optics)

The construction of an optical system so that the image positions of an object are the same for two or more wavelengths, and chromatic aberration is thus minimized.
color correction
Altering the colors in an image in order to print or display it properly or for special effects. Depending on the application, color correction can be a significant problem if the resulting image must be approved or a purchase is made because of color choice. See color calibration and ICC profile.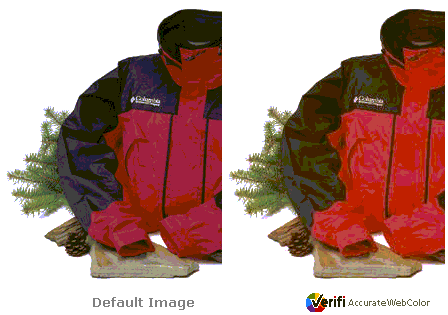 I Didn't Order That Color!
Imagine ordering the jacket on the left and getting the one on the right. It can happen if your monitor is not calibrated to the original image. Verifi was an early color-correction technology from Kodak that allowed customers to preview product images on their monitors and rely on the software to adjust the desired item's picture to a true representation. (Image courtesy of Kodak Polychrome Graphics)