hoist
(redirected from Comealong)
Also found in:
Dictionary
,
Thesaurus
,
Wikipedia
.
winch
winch, mechanical device for hauling or lifting consisting essentially of a movable drum around which a cable is wound so that rotation of the drum produces a drawing force at the end of the cable. A windlass is essentially the same device as a winch, except that a winch may be power-driven whereas a windlass is usually hand-powered and somewhat less sophisticated. Winches are normally equipped with a ratchet wheel and a pawl to prevent slippage of the load, and brakes that allow a load to be lowered or released at a controlled rate. A hoist is another closely related device, mounted so as to be movable (as in a traveling crane). Winches and hoists are widely used in cargo handling, e.g., in ships, factories, and warehouses, and also function as the power unit in derricks, power cranes, and power shovels. A car puller is a winch with a vertical drum axis, used to position railroad cars in freight yards. Certain military and construction vehicles designed for off-road use are equipped with engine-powered winches that can be used for lifting and hauling or to extricate the vehicle should it become stuck in areas where traction is poor.
The Columbia Electronic Encyclopedia™ Copyright © 2022, Columbia University Press. Licensed from Columbia University Press. All rights reserved.
Hoist
A projecting beam with block and tackle, used for lifting goods; often seen above openings in the upper stories of medieval houses. Also, a platform for lifting people and/or materials. The platform is lifted by cables and contained within an open frame that is supported by the building.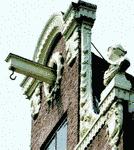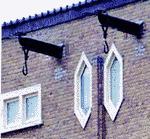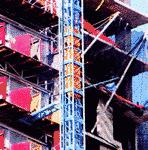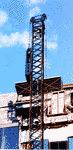 Illustrated Dictionary of Architecture Copyright © 2012, 2002, 1998 by The McGraw-Hill Companies, Inc. All rights reserved
The following article is from The Great Soviet Encyclopedia (1979). It might be outdated or ideologically biased.
Hoist
a cyclical or continuous-operation machine for lifting freight and passengers in special carrying devices that move along rigid vertical (sometimes inclined) guides or rails. A distinction is made among cable, chain, rack, screw, and plunger hoists, depending on the way in which the driving force is transmitted to the carriers.
A predominant position is occupied by cable hoists, in which the carrier is lifted on steel cables that pass around cable sheaves or are wound around the drums of hoisting winches. In hoists with cable sheaves, which transmit the tractive force by friction, the carrier (a cab, cage, skip, platform, trolley, or car) is balanced by another similar carrier or by a counterweight that also moves along guides. In drum hoists a counterweight reduces the load on the drive. When additional load-lifting equipment is used for balancing, the efficiency of the hoist is increased. Hoists usually have an electric drive, and sometimes a hydraulic drive.
The diversity of designs and types of hoisting machinery results from the broad sphere of application of such devices. Elevators, escalators, and occasionally paternosters have become commonplace in residential, public, administrative, and industrial buildings. Funiculars, or passenger cable hoists that operate cyclically, are used to lift passengers in cars along an inclined railway on mountains, steep banks, and other natural eminences.
Skip hoists are used to raise useful minerals and barren rock to the surface in mines, pits, and quarries, and also to charge blast furnaces. In underground mining, cage hoists are installed to raise and lower personnel, equipment, and materials. Buildings are erected with the aid of pillar, cable, and shaft construction hoists; the pressure (delivery) pipes for high-mountain hydroelectric power plants are assembled by special trolley hoists. Various types of hoists are used in maintenance plants (for example, automobile lifts) and for the servicing and minor repair of buildings, gas holders, and other high structures (for example, cherry pickers). (The Russian term, pod"emnik, is also applied to the equipment for lifting ships traveling through canals having different water levels.)
REFERENCES
Kifer, L. G., and I. I. Abramovich. Gruzopod"emnye mashiny, vol. 2. Moscow, 1949.
Pod"emniki. Moscow, 1957.
Fedorova, Z. M., and I. F. Lukin. Pod"emniki: Konstruirovanie i raschet elementovpod"emnika. Kharkov, 1971.
The Great Soviet Encyclopedia, 3rd Edition (1970-1979). © 2010 The Gale Group, Inc. All rights reserved.
hoist
[

hȯist

]

(mechanical engineering)

To move or lift something by a rope-and-pulley device.

A power unit for a hoisting machine, designed to lift from a position directly above the load and therefore mounted to facilitate mobile service. Also known as winding engine.

McGraw-Hill Dictionary of Scientific & Technical Terms, 6E, Copyright © 2003 by The McGraw-Hill Companies, Inc.
hoist
1. In building, a machine for lifting workers and materials to upper stories during erection of the structure.
2. A machine that provides power drive to a cable drum used to pull or lift a load.
McGraw-Hill Dictionary of Architecture and Construction. Copyright © 2003 by McGraw-Hill Companies, Inc.
hoist

In helicopters, the mechanism by which external loads (personnel or equipment) may be raised or lowered vertically. The term also is used as a verb, meaning "to pull up loads and personnel with the hoist/winch."
An Illustrated Dictionary of Aviation Copyright © 2005 by The McGraw-Hill Companies, Inc. All rights reserved
hoist
1. any apparatus or device for hoisting
2.
Nautical
a. the amidships height of a sail bent to the yard with which it is hoisted
b. the difference between the set and lowered positions of this yard
3. Nautical the length of the luff of a fore-and-aft sail
4. Nautical a group of signal flags
Collins Discovery Encyclopedia, 1st edition © HarperCollins Publishers 2005