Commercial Italianate style
Italianate style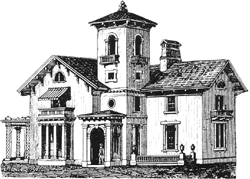 An eclectic style of Italian-influenced residential and commercial architecture; fashionable in England and America from the 1840s to around 1890. Italianate style residential buildings may be classified as:
Villas
: Domestic architecture intended to resemble prosperous farmhouses or country manor houses of northern Italy; usually two stories high, with an attic story;
Town houses
: Urban row houses, commonly three or four stories in height with a flat or very low-pitched roof; mullions divide both the upper and lower window sashes vertically into two panes.
Commercial Italianate style
buildings: a raised pediment above the roofline at the center of the façade, often with the name of the building and/or the date of its completion, and a cast-iron façade.
Palazzi
: See
Italian Renaissance Revival
.
McGraw-Hill Dictionary of Architecture and Construction. Copyright © 2003 by McGraw-Hill Companies, Inc.