airport
(redirected from Commercial airport)
Also found in:
Dictionary
,
Thesaurus
.
airport
airport or airfield, place for landing and departure of aircraft, usually with facilities for housing and maintaining planes and for receiving and discharging passengers and cargo. There are about 16,000 airports in the United States, ranging from the Hartsfield-Jackson Atlanta International Airport, the world's busiest, which handles more than 94 million passengers on more than 900,000 flights a year, to remote airstrips that may handle only one plane a day. The essential requirements in airport construction are that the field be as level as possible; that the ground be firm and easily drained; that approaches to runways be free of trees, hills, buildings, and other obstructions; and that the site be as free as possible of smoke and weather that produces low-visibility conditions. The Federal Aviation Administration recommends that runways of large airports measure from 2,500 to 12,000 ft (762–3,658 m) in length and 200 to 500 ft (62–150 m) in width; Hartsfield-Jackson airport has four such runways. Narrower paved strips called taxiways that connect the runways to other parts of the airport are entered by aircraft as soon as possible after landing, thus freeing the runways for use by other traffic. A taxiway and a runway are usually connected at each end and at several intermediate points. Besides the hangars (buildings for housing and servicing aircraft), airports are usually provided with office and terminal buildings which house administrative, traffic control, communication, and weather observation personnel. The rapid development of aircraft, especially the jumbo jet and the newer superjumbo jet, has created problems for all major airports. Greater speed and weight of aircraft have made longer and more durable runways necessary. Greater numbers of passengers have necessitated more efficient methods of moving people and luggage from curb to plane. Despite efforts at curbing jet noise, many communities have rejected plans to build airports within their boundaries; the violent protests over the building of Japan's Narita Airport are the best-known example. Locating airports away from densely populated areas can alleviate noise problems, but this solution makes it difficult for passengers and others to reach the airport.
Bibliography
See R. Allen, Major Airports of the World (1979), R. Horonjeff, Planning and Design of Airports (1983), and A. T. Wells, Airport Planning and Management (1986).
The Columbia Electronic Encyclopedia™ Copyright © 2022, Columbia University Press. Licensed from Columbia University Press. All rights reserved.
The following article is from The Great Soviet Encyclopedia (1979). It might be outdated or ideologically biased.
Airport
a transportation enterprise that provides regular air transportation for passengers, freight, and mail. In the USSR the civil aviation airports are divided into international, all-Union, and local airports.
As the length of air routes increases and as new types of aircraft are put into operation, the requirements for the equipment of airports increase. The modern airport is an elaborate complex of engineering structures and technical devices requiring a large territory, which, in some cases, measures thousands of hectares (for instance, Domodedovo Airport in Moscow or Kennedy Airport in New York). In choosing the locations of airports, factors to be considered are the ease and speed of communication with the city, the possibility of alienating large tracts of land near the city, the expected long-range development of the airport, the suitability of the terrain, soil and hydrogeological conditions, tall obstacles near the airport or on the air approaches, and so on. The main component part of the airport is the airfield, which includes the flight field; the latter includes runways, taxiways, airplane parking areas, and shoulder and overrun strips. The number of landing strips and their location within the airport depends on the traffic capacity of the airport and on the terrain. Within the landing strip there is a working area containing paved runways.
The runways are connected with the terminal aprons and the airplane parking areas by taxiways. To ensure regular flights and the safe landing of planes, the airfield is equipped with an instrument radio technical system for directing landings and a high-intensity light-signal system. A service and technical zone adjoins the airfield. This zone includes the passenger complex (a terminal, aprons, an airport parking area, a hotel, and so on); the freight complex (a freight terminal with a cargo ramp and a yard); and buildings and facilities for radio navigation service, airplane fueling, the technical servicing of planes, and auxiliary and production services. Large airports have several terminals (Vnukovo and Sheremet'evo airports in Moscow, Kennedy International Airport in New York, and others). An airport has an air-traffic control building (control tower), which includes dispatching flight-navigational, meteorological, and other services. The technical servicing of the planes (before and after flight) is done at the parking areas. Regularly scheduled maintenance is performed in the hangars of the technical aircraft bases. Planes are fueled by automotive fuel trucks or through a stationary single-point fueling system. An airport has mechanization and transportation bases; technical and other warehouses; and a variety of service buildings, engineering networks, and facilities for water supply, sewerage, heat, gas, and electric power. Residential, cultural, and service buildings are provided for airport personnel and their families; these buildings form a separate settlement located usually 3–5 km from the airport.
The growing complexity of the planning of airports and their increasing size, passengers' use of various means of getting to airports, and the growth of modern cities have made the construction of airports part of general city-planning problems. In view of the special technical requirements and the need to protect cities from noise, airports are, as a rule, located at a considerable distance from the outer residential limits (as much as several dozens of kilometers). The servicing of the airport is included in the general plan for urban and suburban traffic. The necessary tracts are set aside in suburban areas with a view to the long-range development of the airport. The architectural and planning schemes of airports provide for the most rational combination of flight, service, and residential zones. The central element in its composition is the air terminal and other service zones directly connected with the servicing of passengers. The design, construction, and reconstruction of airports are governed by special technical conditions. The work of the airports of international lines is regulated by the requirements of the International Civil Aviation Organization (ICAO).
L. I. GORETSKII, F. IA. ZAITSEV, and V. G. LOKSHIN
The Great Soviet Encyclopedia, 3rd Edition (1970-1979). © 2010 The Gale Group, Inc. All rights reserved.
What does it mean when you dream about an airport?
Some new idea or venture may be ready to take off. If planes can't get off the ground, the venture may be grounded for awhile. An airport can also represent a transition in one's life.
The Dream Encyclopedia, Second Edition © 2009 Visible Ink Press®. All rights reserved.
airport
[

′er'pȯrt

]

(civil engineering)

A terminal facility used for aircraft takeoff and landing and including facilities for handling passengers and cargo and for servicing aircraft. Also known as aerodrome.

McGraw-Hill Dictionary of Scientific & Technical Terms, 6E, Copyright © 2003 by The McGraw-Hill Companies, Inc.
airfield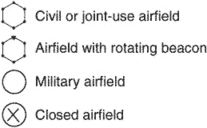 Any area on which aircraft may land, take off, park, and be serviced. It includes buildings and installations to support flying and maintenance
operations. Also known as an
airport, airstrip
, or
aerodrome
. On aeronautical charts, airfields are depicted as in the illustration.
---
field elevation
The highest point of an airport's usable runways measured in feet or meters from mean sea level. The elevation of the highest point of the landing area is called an
aerodrome
, or
airport, elevation
and is depicted on approach charts. See
aerodrome elevation
.
An Illustrated Dictionary of Aviation Copyright © 2005 by The McGraw-Hill Companies, Inc. All rights reserved
airport
a landing and taking-off area for civil aircraft, usually with surfaced runways and aircraft maintenance and passenger facilities
http://routesinternational.com/airports.htm
www.internationalairportguide.com
Collins Discovery Encyclopedia, 1st edition © HarperCollins Publishers 2005
AirPort
A family of wireless routers from Apple, introduced in 1999. In the past, Apple branded the Wi-Fi capability in its Mac laptops as AirPort. See wireless router.

AirPort Extreme
The larger AirPort Extreme is a traditional wireless router with three wired Ethernet ports for computers. Its single USB port can be used to connect a printer or external hard drive.

AirPort Express
Introduced in 2004, the smaller AirPort Express has only one wired Ethernet port. The AirPort's AirPlay feature streams music wireless from iTunes in a computer or from any iOS device to powered speakers or a stereo amplifier connected to the unit. In conjunction with the primary wireless router in the home, the Express can also be used as a Wi-Fi range extender and boost the signal over a longer distance. See AirPlay, Time Capsule, digital media hub and iTunes.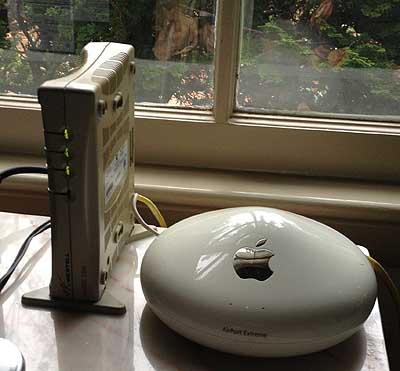 An Old AirPort Extreme
Looking like a space pod, earlier AirPorts did not resemble any other wireless routers. Connected to a DSL modem, in 2013, this AirPort was going strong after seven years of service.
Copyright © 1981-2019 by The Computer Language Company Inc. All Rights reserved. THIS DEFINITION IS FOR PERSONAL USE ONLY. All other reproduction is strictly prohibited without permission from the publisher.