Compactor
Also found in:
Dictionary
,
Thesaurus
,
Medical
,
Legal
,
Wikipedia
.
compactor
[

kəm′pak·tər

]

(mechanical engineering)

Machine designed to consolidate earth and paving materials by kneading, weight, vibration, or impact, to sustain loads greater than those sustained in an uncompacted state.

A machine that compresses solid waste material for convenience in disposal.

McGraw-Hill Dictionary of Scientific & Technical Terms, 6E, Copyright © 2003 by The McGraw-Hill Companies, Inc.
The following article is from The Great Soviet Encyclopedia (1979). It might be outdated or ideologically biased.
Compactor
a machine for layer-by-layer consolidation of soil using a dropping working member. It compacts soils of various compositions and various states, including natural bedding.
A distinction is made between heavy-duty, medium-duty, and light-duty compactors. Heavy-duty machines produce an impact energy of up to 5 × 104 joules (J); medium-duty machines, 103-104 J; and light-duty machines, or tampers, up to 103 J. Among the heavy-duty compactors are those based on power shovels or tractors. The working member of such compactors is usually a plate that weighs up to 3 tons and is dropped from a height of up to 2.5 m. Medium-duty compactors include diesel-powered machines that are self-propelled or in the form of equipment mounted on tractors. Such compactors may have mechanical or explosive action or may use a steam-air drive.
In some compactors, the impact is transmitted through a plate resting on the soil surface (a sole plate); in others, the working member strikes the soil surface directly.
Compactors mounted on crawler tractors are common. This type of compactor has up to five consecutively operating diesel-powered tampers or a dropping plate. The operating speed of such a compactor is 0.2–0.3 km/hr, and the productivity is as high as 450 cu m per hr, with a compacted layer up to 1.5 m thick.
REFERENCES
Spravochnik konstruktora dorozhnykh mashin, 2nd ed. Moscow, 1973.
Spravochnik inzhenera-mekhanika dorozhnika. Moscow, 1973.
The Great Soviet Encyclopedia, 3rd Edition (1970-1979). © 2010 The Gale Group, Inc. All rights reserved.
compactor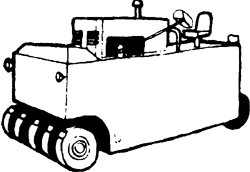 1.
A machine that uses weight, vibration, or a combination of both, to achieve
compaction.
2. A motor-driven machine (usually having one or more rams) which reduces the volume of waste material by subjecting it to pressure and forces it into a removable container.
McGraw-Hill Dictionary of Architecture and Construction. Copyright © 2003 by McGraw-Hill Companies, Inc.