girder
(redirected from Concrete girder)
Also found in:
Dictionary
,
Thesaurus
.
Related to Concrete girder:
Concrete girder bridge
,
Rolled steel girder bridge
girder
Botany the structure composed of tissue providing mechanical support for a stem or leaf
Girder
A large or principal beam used to support concentrated loads at isolated points along its length.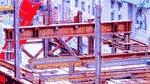 girder
[

′gər·dər

]

(civil engineering)

A large beam made of metal or concrete, and sometimes of wood.
girder
A large or principal beam of steel, reinforced concrete, or timber; used to support concentrated loads at isolated points along its length. (See illustration p. 462.)