corn
(redirected from Corn on the cob)
Also found in:
Dictionary
,
Thesaurus
,
Medical
,
Legal
,
Acronyms
,
Wikipedia
.
corn
corn, in botany. The name corn is given to the leading cereal crop of any major region. In England corn means wheat; in Scotland and Ireland, oats. The grain called corn in the United States is Indian corn or maize (Zea mays mays). The part of the United States where most of the corn is grown, including Ohio, Illinois, Indiana, Missouri, Kansas, Iowa, and Nebraska, is known as the Corn Belt.
The Corn Plant
The corn plant has a pithy noded stalk supported by prop roots. The staminate (male) flowers form the tassel at the top of the plant. The pistillate (female) flowers are the kernels on the cob, which is enclosed by a leafy husk beyond which extend threadlike styles and stigmas (the silk), which catch the pollen. The corn plant with its ornamental tassel and ears has been a motif of American art since prehistoric times.
The plant is a grass that was domesticated and cultivated in the Americas long before Europeans reached the New World; genetic and archaeological evidence indicates it was first domesticated c.7000 B.C. Corn has dramatically changed from the ancestral wild grass that was its original form, teosinte (Zea species), a tropical American fodder plant in which the seeds are not united in a cob. It has been so adapted to cultivation that it cannot sustain itself without human cultivation. The Native Americans had many varieties of corn, e.g., sweet corn, popcorn, and corn for corn meal. White, yellow, red, and blue corn were grown as distinct strains.
Development of Hybrids
The easily produced and readily identifiable strains of corn made it a favorite subject for experimental genetics. The development of hybrid corn seed was an early (beginning of the 20th cent.) and revolutionary introduction of the principles of theoretical science into practical agriculture. At first ridiculed, the scientifically developed hybrids came to represent most commercially grown corn types. They resulted in higher yields, increased sugar and lowered starch content, and uniform plants bred to specification for mechanical harvesting. Most recently, genetic engineering has produced corn with added sweetness, disease resistance, and other desired traits.
Uses
As human food, corn is eaten fresh or ground for meal. It is the basic starch plant of Central and Andean South America, where it is still hand ground on metates to be made into tamales, tortillas, and other staple dishes. In the S United States it is familiar as hominy, mush, and grits. Starch, sugar, and oil are also extracted for many products, but the chief use of corn is as animal fodder. It is the primary feed grain of the United States, and in Europe this is almost the only use of corn. Corn is also as a raw material in the manufacture of
ethanol
for fuel; some 40% of the U.S. crop is so used.
Bibliography
See P. C. Mangelsdorf, Corn (1974); J. C. Hudson, Making the Corn Belt (1994).
The Columbia Electronic Encyclopedia™ Copyright © 2022, Columbia University Press. Licensed from Columbia University Press. All rights reserved.
corn
Corn/maize shoots can be eaten when they resemble large blades of grass that taste like sweet corn. Young maize shoots look like yellow grass and accumulate a powerful antibiotic substance called DIMBOA, a natural defense against pathogenic bacteria and fungus. Corn does not contain the gluten that causes celiac disease. The whole baby corn in husk may also be eaten, silk and all. Corn/maize kernels are very high in starch, which turns into sugar in the body. The really healthy part of the plant is the cornsilk (see Cornsilk)
Edible Plant Guide © 2012 Markus Rothkranz
What does it mean when you dream about corn?
Throughout history corn has been celebrated, symbolized, sanctified, ceremonialized, ritualized and even used to describe substandard humor ("corny"). Corn dreams may thus indicate anything from nourishment to the kind of humor the dreamer may be inflicting upon others. Corn may also represent abundance, growth, or fertility.
The Dream Encyclopedia, Second Edition © 2009 Visible Ink Press®. All rights reserved.
corn
[

kȯrn

]

(botany)

Zea mays. A grain crop of the grass order Cyperales grown for its edible seeds (technically fruits).

(medicine)

A small, sharply circumscribed, conically shaped deep-seated area of thickened skin composed of the fibrous protein keratin. Also known as heloma.

McGraw-Hill Dictionary of Scientific & Technical Terms, 6E, Copyright © 2003 by The McGraw-Hill Companies, Inc.
cornice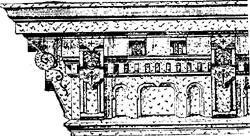 1. Any molded projection which crowns or finishes the part to which it is affixed.
2. The third or uppermost division of an entablature, resting on the frieze.
3.
An ornamental molding, usually of wood or plaster, running round the walls of a room just below the ceiling; a
crown molding
; the molding forming the top member of a door or window frame.
4.
The exterior trim of a structure at the meeting of the roof and wall; usually consists of bed molding, soffit, fascia, and crown molding. For special types, see
architrave cornice, boxed cornice, bracketed cornice, cavetto cornice, closed cornice, eaves cornice, modillion cornice, open cornice.
McGraw-Hill Dictionary of Architecture and Construction. Copyright © 2003 by McGraw-Hill Companies, Inc.
corn
1
a. a tall annual grass, Zea mays, cultivated for its yellow edible grains, which develop on a spike
b. the grain of this plant, used for food, fodder, and as a source of oil
---
corn
2
a hardening or thickening of the skin around a central point in the foot, caused by pressure or friction
Collins Discovery Encyclopedia, 1st edition © HarperCollins Publishers 2005