Section
(redirected from Coronal section)
Also found in:
Dictionary
,
Thesaurus
,
Medical
,
Legal
,
Financial
.
section
1. Transport the section of a railway track that is maintained by a single crew or is controlled by a particular signal box
2. Archit a representation of a portion of a building or object exposed when cut by an imaginary vertical plane so as to show its construction and interior
3.
Geometry
a. a plane surface formed by cutting through a solid
b. the shape or area of such a plane surface
4. Surgery any procedure involving the cutting or division of an organ, structure, or part, such as a Caesarian section
5. a thin slice of biological tissue, mineral, etc., prepared for examination by a microscope
6. a segment of an orange or other citrus fruit
7. Austral and NZ a fare stage on a bus, tram, etc.
8.
Music
a. an extended division of a composition or movement that forms a coherent part of the structure
b. a division in an orchestra, band, etc., containing instruments belonging to the same class
Collins Discovery Encyclopedia, 1st edition © HarperCollins Publishers 2005
section
1. An orthographic projection of an object or structure as it will appear if cut through by an intersecting plane to expose its internal configuration.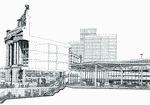 See also: Projection drawing

2. The representation of a building or portion thereof, cut vertically at some imagined plane, so as to show the interior of the space or the profile of the member. See also Projection drawing.

Illustrated Dictionary of Architecture Copyright © 2012, 2002, 1998 by The McGraw-Hill Companies, Inc. All rights reserved
The following article is from The Great Soviet Encyclopedia (1979). It might be outdated or ideologically biased.
Section
in architecture, the frontal projection of a building or an architectural detail that is arbitrarily cut by a plane or a system of planes. The configuration of architectural details, volumes, or interior spaces can be symbolized by a section drawing. A section also characterizes the form and configuration of a structure.
---
Section
in botany, a taxonomic category intermediate between a subgenus and a series. The name of a section is designated by a noun. A section that includes the type species of a given subgenus has the same name as the subgenus. For example, in the genus Carex (sedge) the designation Vignea is used for both the subgenus and the section that includes the type species of the subgenus (Carex arenaria). Thus, the name used to indicate the section to which the species belongs is Carex (sect. Vignea) arenaria.
---
Section
(1) A division or subdivision of an organization or institution.
(2) A group of delegates chosen to work on a set of questions at congresses or meetings.
---
Section
in geology, a thin, flat piece of rock, mineral, or fossil coal used in microscopic studies. The most commonly used sections are thin sections—flat pieces 0.02–0.03 mm in thickness prepared mainly from silicate rocks. At such a thickness, most minerals are translucent, which makes it possible to study them with a polarizing microscope to determine the optical properties of the minerals, the crystal structure, the nature of interrelationships, and other aspects of minerals. The study of thin sections is one of the primary techniques of petrography. Sections 0.005–0.035 mm in thickness are used to study fossil coals. Sections are made by grinding one side of a fragment of rock or mineral of any thickness on a special grinding machine, cementing the polished side to a glass slide with Canadian balsam or some other organic resin, and then grinding the other surface until the section reaches the proper thickness.
Polished translucent sections, in which the upper surface of the section is polished with special care, are made to study the composition of minerals by spectral X-ray analysis. For opaque minerals, mostly ores, polished sections are used, which are usually 0.5–1.0 cm in thickness, polished on one side, and mounted on a glass slide with mastic or modeling clay. The study of polished sections of ore minerals is the task of mineragraphy, or mineralo-graphy, an important branch of mineralogy.
The Great Soviet Encyclopedia, 3rd Edition (1970-1979). © 2010 The Gale Group, Inc. All rights reserved.
section
[

′sek·shən

]

(civil engineering)

A piece of land usually 1 mile square (640 acres or approximately 2.58999 square kilometers) with boundaries conforming to meridians and parallels within established limits; 1 of 36 units of subdivision of a township in the U.S. Public Land survey system.

(communications)

Each individual transmission span in a radio relay system; a system has one more section than it has repeaters.

(geology)

An inclined or vertical surface that is uncovered either naturally (as a sea cliff or stream bank) or artificially (as a strip mine or road cut) through a part of the earth's crust.

A description or scale drawing of the successive rock units or geologic structures shown by the exposed surface, or their appearance if cut through by any intersecting plane.

(mathematics)

For a polyhedral angle, the polygon formed by the intersection of the faces of the angle with a plane that does not pass through the vertex.

McGraw-Hill Dictionary of Scientific & Technical Terms, 6E, Copyright © 2003 by The McGraw-Hill Companies, Inc.