Counterflashing
Counterflashing
Waterproof material, such as sheet metal, installed on the face of a wall that overlaps and seals the top of the vertical flashing below.
Illustrated Dictionary of Architecture Copyright © 2012, 2002, 1998 by The McGraw-Hill Companies, Inc. All rights reserved
counterflashing, cover flashing, cap flashing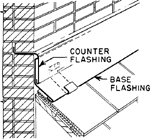 A strip of sheet metal, often built into masonry and turned down over other flashing; used to prevent water from entering the joints and the exposed upturned edges of
base flashing
on a roof.
McGraw-Hill Dictionary of Architecture and Construction. Copyright © 2003 by McGraw-Hill Companies, Inc.