course
(redirected from Course (disambiguation))
Also found in:
Dictionary
,
Thesaurus
,
Legal
.
course
1. the path or channel along which something moves
2.
a. a prescribed number of lessons, lectures, etc., in an educational curriculum
b. the material covered in such a curriculum
3. a prescribed regimen to be followed for a specific period of time
4. Nautical any of the sails on the lowest yards of a square-rigged ship
5. (in medieval Europe) a charge by knights in a tournament
6.
a. a hunt by hounds relying on sight rather than scent
b. a match in which two greyhounds compete in chasing a hare
7. the part or function assigned to an individual bell in a set of changes
8. Archaic a running race
Collins Discovery Encyclopedia, 1st edition © HarperCollins Publishers 2005
course
1.
A horizontal row containing brick headers in a masonry structure. See also:
Bond
2. A layer of masonry units running horizontally in a wall or over an arch that is bonded with mortar. The horizontal joints run the entire length; the vertical joints are broken so that no two form a continuous line.
Illustrated Dictionary of Architecture Copyright © 2012, 2002, 1998 by The McGraw-Hill Companies, Inc. All rights reserved
The following article is from The Great Soviet Encyclopedia (1979). It might be outdated or ideologically biased.
Course
(1) The path followed by sea and air transport, such as a ship's course.
(2) The direction of political, social, and other activity, such as a course of development of heavy industry.
(3) In Russian, a word (kurs) designating the value of a monetary unit of one country expressed in monetary units of another country (course or parity of exchange); in capitalist countries, the price at which stocks, bonds, notes, and other securities are bought and sold (kursovaia tsena).
(4) A year of study in higher or specialized secondary educational institutions (technicums); first course, second course, and so on.
(5) The exposition of a particular academic discipline or branch of knowledge within defined limits.
(6) A completed series of actions or procedures (a course of treatment).
---
Course
(ship), the angle between the plane of the meridian and the center line of a vessel, reckoned in degrees from the northern part of the meridian clockwise (from 0° to 360°).
In the age of sailing, a course was read off in quarters of the horizon by degrees from the north and south in both directions up to 90° (for example: northeast 45°, southwest 60°) or was expressed in compass points. It is determined on a vessel by means of a gyrocompass or a magnetic compass. Because of the inherent errors in these instruments and the effect of the earth's magnetic field on a magnetic compass, the direction of a compass meridian may differ from the geographic meridian, and there will be a corresponding difference between the compass course to which a vessel is holding and the true course as laid out on a chart. A compass course is obtained by taking the algebraic difference between the true course and the total correction computed from the elements in its composition, or by comparing the compass and true bearings of some objects (shore-based points or heavenly bodies). A vessel can be stabilized on a given course either manually or automatically; automatic stabilization relies on an automatic control system (autopilots). Navigation of sailing vessels uses the regular course terminology and also one based on the angle of the wind direction relative to the center line of the vessel. Such a course has various names depending on the value of this angle: close-hauled, beam reach, broad reach, and running.
B. P. KHABUR and A. A. IAKUSHENKOV
The Great Soviet Encyclopedia, 3rd Edition (1970-1979). © 2010 The Gale Group, Inc. All rights reserved.
course
[

kȯrs

]

(civil engineering)

A row of stone, block, or brick of uniform height.

(navigation)

The intended direction of travel expressed as an angle in the horizontal plane between a reference line (true magnetic north) and the course line (the line connecting the point of origin and the point of destination), usually measured clockwise from the reference line. Also known as desired track.

(textiles)

A row of stitches across a knitted fabric; corresponds to the filling in woven fabric.

McGraw-Hill Dictionary of Scientific & Technical Terms, 6E, Copyright © 2003 by The McGraw-Hill Companies, Inc.
course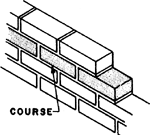 1. A layer of masonry units running horizontally in a wall or, much less commonly, curved over an arch; it is bonded with mortar.
2. A continuous row or layer of material, as shingles, tiles, etc.
3.
In concrete construction, one of several horizontal layers making up a
lift
,
5.
For specific types, see
band course, base course, belt course, blocking course, bond course, coping course, corbel course, dog-tooth course, masonry course, random course, sill course, springing course, staggered course, stringcourse, tumbling course.
McGraw-Hill Dictionary of Architecture and Construction. Copyright © 2003 by McGraw-Hill Companies, Inc.
course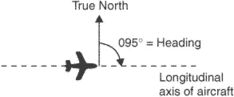 i
. The intended direction of flight. The aircraft heading as measured in the horizontal plane in degrees clock-wise from the north. The course is indicated by a single arrow in the air plot.
ii
. The ILS (instrument landing system) localizer signal pattern, usually specified as front course or back course.
iii
. The intended track along a straight, curved, or segmented microwave landing system path.
An Illustrated Dictionary of Aviation Copyright © 2005 by The McGraw-Hill Companies, Inc. All rights reserved