KVM switch
(redirected from Cpu-switch)
KVM switch
(1) See also KVM.

(2) (Keyboard Video Mouse switch) A device used to connect a keyboard, mouse and monitor to two or more computers. KVM switches are deployed to control a group of servers, as well as to save desktop space when multiple computers are used by one user. Switches have USB and monitor sockets or a combination cable that plugs into one socket on the switch.



The Traditional KVM Switch
Keyboard, video (monitor) and mouse plug into the switch, which plugs into multiple computers.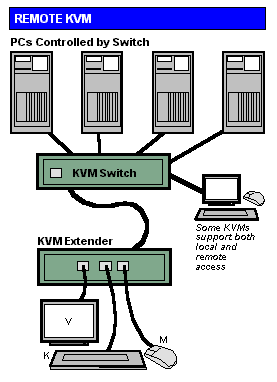 KVM Extenders
KVM extenders can increase the distance to the computers by several hundred feet, even as much as 1,000 feet if Cat5 cables are used.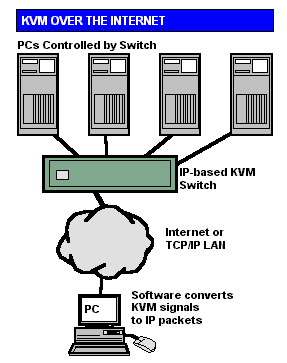 IP KVM - Over the Internet
IP KVM software in the client PC converts keyboard, video and mouse signals into IP packets that are sent over the Internet or local network. At the receiving end, the IP KVM switch is cabled to the computers.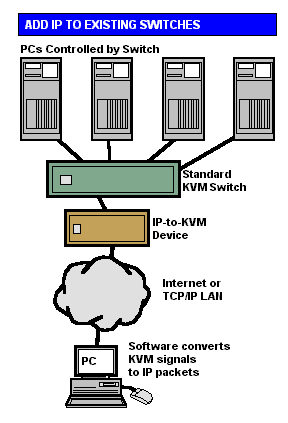 Regular Switches Can Be Used
An IP-to-KVM device converts IP packets to the normal keyboard, video and mouse signals for the computers.
Copyright © 1981-2019 by The Computer Language Company Inc. All Rights reserved. THIS DEFINITION IS FOR PERSONAL USE ONLY. All other reproduction is strictly prohibited without permission from the publisher.