curtain wall
(redirected from Curtain-wall)
Also found in:
Dictionary
.
curtain wall
[

′kərt·ən 'wȯl

]

(civil engineering)

An external wall that is not load-bearing.
curtain wall
A method of construction in which all building loads are transmitted to a metal skeleton frame, so that the non-load-bearing exterior walls of metal and glass are simply a protective cladding. See also:
Wall
curtain wall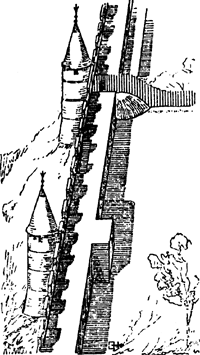 2. In ancient fortifications, an enclosing wall or rampart connecting two bastions or towers.