CyanogenMod
(redirected from Cyanogen OS)
CyanogenMod
An open source custom Android operating system that was designed to offer more flexibility than the stock Android OS. Introduced in 2009, CyanogenMod added gesture recognition, camera enhancements, custom app permissions, overclocking and various other tweaks, some of which were later added by the major smartphone companies. By 2015, there were more than 12 million downloads of the CyanogenMod "custom ROM." Steve Kondik, whose forum handle was Cyanogen, created the OS and is founder and CTO of Cyanogen Inc.

CyanogenMod versions generally coincide with new releases of Android. For example, CaynogenMod 10 was based on Jelly Bean Version 4.1; CyanogenMod 11 on KitKat Version 4.4, and so on.

CyanogenMod and Cyanogen OS
CyanogenMod remains the community-driven version, and Cyanogen OS is a commercial version pre-installed on devices such as the OnePlus One and Yureka smartphones. For more information, visit www.cyanogenmod.org and www.cyngn.com. See Android ROM.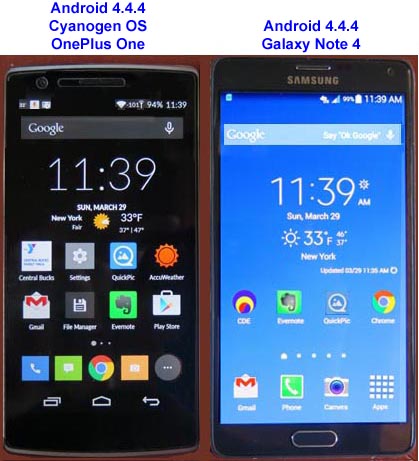 Cyanogen vs. Regular Android
At a quick glance, the only difference between the OnePlus One and the Note 4 appears to be icon size. However, the Cyanogen OS is more customizable, and like Google's Nexus line, has a limited number of vendor-supplied apps.