Cyclopean
Also found in:
Dictionary
,
Thesaurus
,
Medical
,
Wikipedia
.
Cyclopean
(sīkləpē`ən)

, name often applied to a primitive method of prehistoric masonry construction, found throughout Greece, Italy, and the Middle East. The term is derived from Cyclopes, the mythological beings who were supposed to have built walls in this manner. The Cyclopean technique involves the use of huge, irregular boulders, carefully fitted together without the use of mortar, thereby creating a massive wall with an uneven face. These walls were characteristic of Mycenaean civilizationMycenaean civilization
, an ancient Aegean civilization known from the excavations at Mycenae and other sites. They were first undertaken by Heinrich Schliemann and others after 1876, and they helped to revise the early history of Greece. Divided into Early Helladic (c.
.....

Click the link for more information.

. Remaining examples are found at Knossos, Mycenae, Tiryns, and Athens. There are many Cyclopean walls in Etruscan and Anatolian architecture. Somewhat similar examples are seen in China, Japan, and Peru.
cyclopean
[

¦sī·klə¦pē·ən

]

(materials)

Mass concrete with aggregate larger than 6 inches (15 centimeters); used for thick structures such as dams.

(petrology)
Cyclopean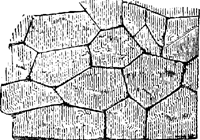 1. Describing prehistoric masonry, made of huge stone blocks laid without mortar.
2. Megalithic.