Limonene
(redirected from D-limonene)
Also found in:
Dictionary
,
Thesaurus
,
Medical
,
Acronyms
.
limonene
[

′lim·nə'lēn

]

(organic chemistry)

C10H16 A terpene with a lemon odor that is optically active and is found in oils from citrus fruits and in oils from peppermint and spearmint; a colorless, water-insoluble liquid that boils at 176°C.
Limonene
1-methy1–4-isopropenylcyclohexene-1, a terpene hydrocarbon; colorless liquid with a lemony odor. Oxidizes readily in air. Boiling point, 176°C; density, 0.8411 g/cm3 at 20°C. Limonene exists in two optically active (+) and (-) forms, as well as a (±)-form (racemic mixture) commonly called dipentene.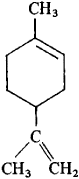 Limonene is a component of many essential oils. For example, citrus oils contain mainly (+)-limonene (approximately 90 percent), which may be extracted by rectification processes. Dipentene is also found in turpentine. Limonene is used as an odoriferous substance in perfume and cosmetics manufacture.