Limonene
(redirected from D-limonene)
Also found in:
Dictionary
,
Thesaurus
,
Medical
,
Acronyms
.
limonene
[

′lim·nə'lēn

]

(organic chemistry)

C10H16 A terpene with a lemon odor that is optically active and is found in oils from citrus fruits and in oils from peppermint and spearmint; a colorless, water-insoluble liquid that boils at 176°C.

McGraw-Hill Dictionary of Scientific & Technical Terms, 6E, Copyright © 2003 by The McGraw-Hill Companies, Inc.
The following article is from The Great Soviet Encyclopedia (1979). It might be outdated or ideologically biased.
Limonene
1-methy1–4-isopropenylcyclohexene-1, a terpene hydrocarbon; colorless liquid with a lemony odor. Oxidizes readily in air. Boiling point, 176°C; density, 0.8411 g/cm3 at 20°C. Limonene exists in two optically active (+) and (-) forms, as well as a (±)-form (racemic mixture) commonly called dipentene.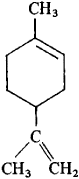 Limonene is a component of many essential oils. For example, citrus oils contain mainly (+)-limonene (approximately 90 percent), which may be extracted by rectification processes. Dipentene is also found in turpentine. Limonene is used as an odoriferous substance in perfume and cosmetics manufacture.
The Great Soviet Encyclopedia, 3rd Edition (1970-1979). © 2010 The Gale Group, Inc. All rights reserved.