avatar
(redirected from Dasavatara)
Also found in:
Dictionary
,
Thesaurus
,
Medical
.
avatar
1. Hinduism the manifestation of a deity, notably Vishnu, in human, superhuman, or animal form
2. a movable image that represents a person in a virtual reality environment or in cyberspace
Collins Discovery Encyclopedia, 1st edition © HarperCollins Publishers 2005
Avatar
(religion, spiritualism, and occult)

Vishnu is the Hindu god of goodness. He has come to Earth when needed in the past in a series of so-called descents or avatars. These are incarnations. Tradition says there will be ten of them, nine of which have already passed:

A dwarf who saved the world from a demon. Prince Rama, defender of the good. Krishna, the poet and warrior who reestablished the principles of religion. A fish that rescued the first man, Manu, from a worldwide flood. A tortoise. A boar. A man-lion. A warrior hero. Prince Gautama, the Buddha. Yet to come: A messiah with a sword of flame who will come at the end of the fourth period of the world to save the righteous and destroy the wicked. He will be riding a white horse.

The Religion Book: Places, Prophets, Saints, and Seers © 2004 Visible Ink Press®. All rights reserved.
avatar
[

′av·ə'tär

]

(computer science)

A virtual representation of a person or a person's interactions with others in a virtual environment, conveying a sense of someone's presence (known as telepresence) by providing the location (position and orientation) and identity; examples include the graphical human figure model, the talking head, and the real-time reproduction of a three-dimesional human image.

McGraw-Hill Dictionary of Scientific & Technical Terms, 6E, Copyright © 2003 by The McGraw-Hill Companies, Inc.
avatar
(chat, virtual reality)
avatar
(2)

(CMU, Tektronix)

root

,

superuser

. There are quite a few

Unix

computers on which the name of the superuser account is "avatar" rather than "root". This quirk was originated by a

CMU

hacker who disliked the term "superuser", and was propagated through an ex-CMU hacker at Tektronix.

This article is provided by FOLDOC - Free Online Dictionary of Computing (foldoc.org)
avatar
A graphic identity that users select to represent themselves in a chat, instant messaging (IM), multiplayer gaming session or virtual world. An avatar is generally a caricature, rather than a realistic photo, and can be anything from a simple cartoon to a bizarre fantasy figure. However, images of real objects are also used. The term is a Sanskrit word that means the incarnation of a god on earth, and this usage of the term came from the gaming and 3D chat worlds. See VRML and digital twin.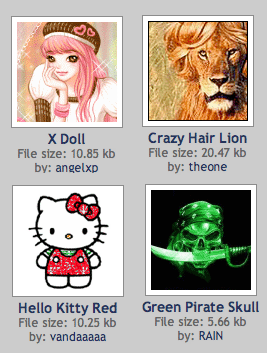 Some Avatars
These are four examples from the AvatarDB website, which has more than 50,000 images arranged by category. People choose an avatar based on how they want others to see them. For more information, visit www.avatarsdb.com.
Copyright © 1981-2019 by The Computer Language Company Inc. All Rights reserved. THIS DEFINITION IS FOR PERSONAL USE ONLY. All other reproduction is strictly prohibited without permission from the publisher.