Db
Also found in:
Dictionary
,
Thesaurus
,
Medical
,
Legal
,
Financial
,
Acronyms
,
Wikipedia
.
Db
Db,
symbol for the element
dubnium
.
The Columbia Electronic Encyclopedia™ Copyright © 2022, Columbia University Press. Licensed from Columbia University Press. All rights reserved.
dB
(physics)
McGraw-Hill Dictionary of Scientific & Technical Terms, 6E, Copyright © 2003 by The McGraw-Hill Companies, Inc.
dB(A)
---
decibel
McGraw-Hill Dictionary of Architecture and Construction. Copyright © 2003 by McGraw-Hill Companies, Inc.
DB
This article is provided by FOLDOC - Free Online Dictionary of Computing (foldoc.org)
database
A set of related files that is created and managed by a database management system (DBMS). Today, most DBMSs can manage any form of data including text, images, sound and video. Database and file structures are always determined by the software. As far as the hardware is concerned, all data are simply "bits and bytes." See DBMS.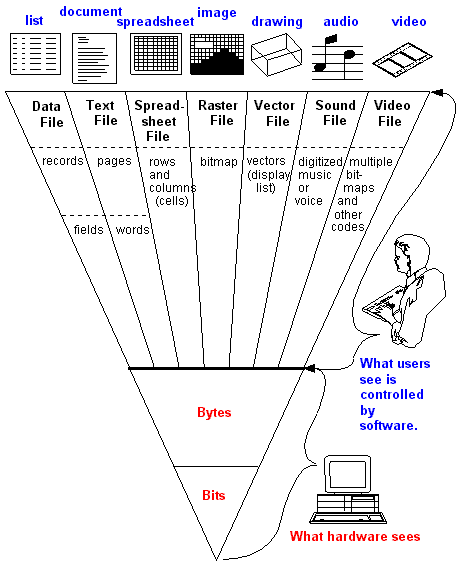 Data Are Bits and Bytes
To the hardware, data are nothing more than bits and bytes. The software determines the format of the data and how to handle it. To understand data and file structures, review the hierarchy and terms in this illustration.
---
decibel
A unit of measurement of the loudness or strength of a signal. One deciBel is considered the smallest difference in sound level that the human ear can discern. Created in the early days of telephony as a way to measure cable and equipment performance and named after Alexander Graham Bell, deciBels (dBs) are a relative measurement derived from two signal levels: a reference input level and an observed output level. A deciBel is the logarithm of the ratio of the two levels. One Bel is when the output signal is 10x that of the input, and one deciBel is 1/10th of a Bel.

Sound Levels
A whisper is about 20 dB. A normal conversation is typically from 60 to 70 dB, and a noisy factory from 90 to 100 dB. Loud thunder is approximately 110 dB, and 120 dB borders on the threshold of pain. In 1883, the volcano on the Indonesian island of Krakatoa erupted. A hundred miles away, the sound level reached more than 170 dB, deafening everyone who survived. See dBm.

INCREASE IN POWER LEVELS (WATTS)Formula is dB=10*log(P1/P2)DeciBels   Output Signal Strength
       3dB           2x
       6dB           4x
      10dB (1 Bel)  10x
      20dB         100x
      30dB       1,000x
      40db      10,000x


   ATTENUATION OF AMPLITUDE (VOLTS or AMPS)Formula is dB=20*log(A1/A2)DeciBels   Output Signal Strength
      -3dB        0.707x
      -6dB        0.5x
     -10dB        0.316x
     -20dB        0.1x
     -30dB        0.032x
     -40db        0.010x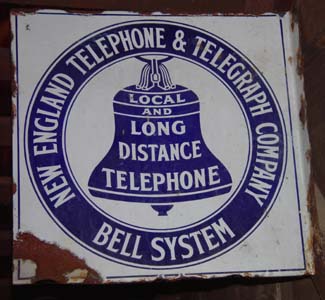 Bels and Bells
Quite a lot was named after Alexander Graham Bell. Throughout the 20th century, the Bell name was ubiquitous. It will live on with the deciBel.
---
D-sub connectors
(D-SUBminiature connectors) A family of plugs and sockets widely used in communications and on earlier PCs. For example, the analog VGA monitor interface uses a D-sub 15-pin plug and socket. Also called "DB connectors" and "D-subs," they come in 9, 15, 25, 37 and 50 pin varieties. The D-sub designation defines the physical structure of the connector, not the purpose of each line.

Technically Not Always DB
In the international DIN 41625 standard, the letters A through E define the number of pins and follow the D. Although called "DB connectors," the only true DB is the DB-25, because B means 25 pins (see illustration below).

DB-25
The female DB-25 was widely used in the past for the printer port on a PC (see printer cable). The male DB-25 was also the second serial port (COM2) on the PC when serial ports were popular. It is still widely used for RS-232 communications devices.

DB-9 (DE-9)
The male DB-9 connector (officially DE-9) was typically used for the first serial port on earlier PCs (COM1) as well as other communications devices. See serial port.

DB-15 (DA-15 and DE-15)
Two DB-15 connectors are widely used. The larger, two-row female DA-15 is the game port on a PC, and the smaller, three-row, female high-density DE-15 is the VGA port. See VGA and plugs and sockets.




Copyright © 1981-2019 by The Computer Language Company Inc. All Rights reserved. THIS DEFINITION IS FOR PERSONAL USE ONLY. All other reproduction is strictly prohibited without permission from the publisher.