Plan
(redirected from Dental Care Plan)
Also found in:
Dictionary
,
Thesaurus
,
Medical
,
Legal
,
Acronyms
.
plan
1. a drawing to scale of a horizontal section through a building taken at a given level; a view from above an object or an area in orthographic projection
2. (in perspective drawing) any of several imaginary planes perpendicular to the line of vision and between the eye and object depicted
Collins Discovery Encyclopedia, 1st edition © HarperCollins Publishers 2005
Plan
A two-dimensional graphic representation of the design and dimensions of the project, or parts thereof, viewed in a horizontal plane from above.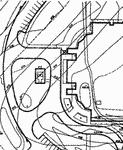 Illustrated Dictionary of Architecture Copyright © 2012, 2002, 1998 by The McGraw-Hill Companies, Inc. All rights reserved
The following article is from The Great Soviet Encyclopedia (1979). It might be outdated or ideologically biased.
Plan
a word with various meanings in Russian, including the following.
(1) In cartography, a drawing using conventional symbols that represents on a plane a part of the earth's surface; the scale is 1:10,000 or larger.
(2) In architecture and other fields, a horizontal cross section or top view of a building or object.
(3) In descriptive geometry, a horizontal projection.
(4) A predetermined order or sequence of carrying out a program, work project, or measure—for example, an economic plan, production plan, strategic plan, or curriclum.
(5) The scheme, design, or basic features of a written or oral work or presentation—for example, a lecture plan or the plot of a play.
(6) The way in which something is viewed, constructed, or approached—a plane or level. Examples include the phrases "on the theoretical plane" and on "on two levels."
(7) Ground, the relative position of objects in a pictorial representation—for example, foreground, middle ground, and background; the relative dimensions of objects in a pictorial representation—for example, the word appears in the Russian terms for "close-up" and "long shot" in cinematography.
---
Plan
in architecture. (1) A graphic representation on a definite scale of a horizontal view of a building (or one of its floors or internal areas), a group of buildings, or a populated area as a whole or in part. Depending on its purpose, the plan may show the design of walls and supports, the arrangement of furniture, the arrangement of equipment and the layout of technological processes in industrial structures, and urban green belts and transportation networks. The plan usually characterizes the shape and configuration of a structure.
(2) A representation of the arrangement of the principal parts of a building at ground level or on different levels for multistory buildings and for groups of buildings on sloping sites.
The Great Soviet Encyclopedia, 3rd Edition (1970-1979). © 2010 The Gale Group, Inc. All rights reserved.
plan
[

plan

]

(graphic arts)

An orthographic drawing on a horizontal plane, as of an instrument, a horizontal section, or a layout.

A large-scale map or chart of a small area.

McGraw-Hill Dictionary of Scientific & Technical Terms, 6E, Copyright © 2003 by The McGraw-Hill Companies, Inc.
plan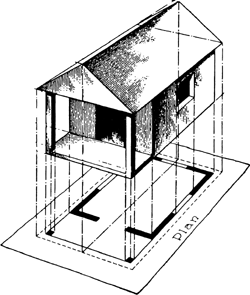 1.
A two-dimensional graphic representation of the design, horizontal dimensions of a building, and location, as seen in a horizontal plane viewed from above, in contrast to a graphical representation representing a vertical plane (such as a section,
2
or an
elevation
, 1). See
center-hall plan, city plan, cruciform plan, community plan, floor plan, four-square plan, gable-front-and-wing plan, gable-front plan, Georgian plan, ground plan, hall-and-parlor plan, hall-house plan, H-plan, linear plan, L-plan, one-room plan,
McGraw-Hill Dictionary of Architecture and Construction. Copyright © 2003 by McGraw-Hill Companies, Inc.
PLAN
(language)

Programming LANguage Nineteen hundred.

The

assembly language

for ICL 1900 series computers.

This article is provided by FOLDOC - Free Online Dictionary of Computing (foldoc.org)