Dentil
Also found in:
Dictionary
,
Wikipedia
.
dentil
[

′dent·əl

]

(architecture)

One of a series of small rectangular blocks under a cornice.
Dentil
a small projection on the surface of a facade, entablature, or cornice. Dentils are used chiefly to break up the facade of a building or to give the facade a sculptural effect. There are dentils in the cornice of the Roman Arch of Constantine (A.D.315).
dentil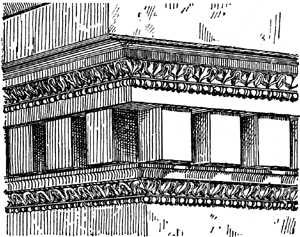 One of a band of small, square, toothlike blocks forming part of the characteristic ornamentation of the Ionic, Corinthian, and Composite orders, and sometimes the Doric.