Design drawing
Design drawing
Any of the drawings made to aid in the visualization, exploration, and evaluation of a concept in the design process.
cartoon
A drawing or painting made as a detailed model of an architectural embellishment, often full-scale, to be transferred in preparation for a fresco, mosaic or tapestry.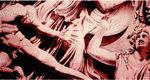 collage
An artistic composition of often diverse materials and objects in unlikely or unexpected juxtaposition, which are pasted over a surface; often with unifying lines and color.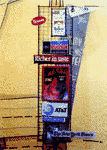 detail
A small or secondary part of a painting, statue, building, or other work of art, especially when considered or represented in isolation.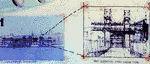 diagram
A plan, sketch, drawing, chart or graph, not necessarily representational, that explains, demonstrates or clarifies the arrangement and relationship of the parts to a whole.
draft
A preliminary sketch of a design or plan, especially one executed with the idea of potential revision or refinement.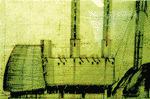 esquisse
A first sketch or very rough design drawing showing the general features of a proposed project.
rendering
A drawing, especially a perspective of a building or interior space, artistically delineating materials, shades and shadows, done for the purpose of presentation and persuasion.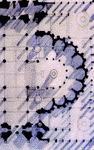 scheme
The basic arrangement of an architectural composition; a preliminary sketch for a design.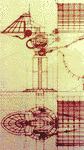 sketch
A rough drawing that represents the main features of a plan or building; used as a preliminary study.
study
A drawing executed as an educational exercise, produced as a preliminary to a final work or made record observations.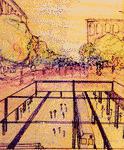 vignette
A drawing that is shaded off gradually into the surrounding background so as to leave no definite line at the border.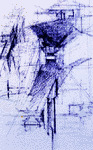 Illustrated Dictionary of Architecture Copyright © 2012, 2002, 1998 by The McGraw-Hill Companies, Inc. All rights reserved