Desynchronization
Also found in:
Dictionary
,
Thesaurus
.
The following article is from The Great Soviet Encyclopedia (1979). It might be outdated or ideologically biased.
Desynchronization
(of an electroencephalogram), the replacement of time-ordered, synchronous high-amplitude (30-100 microvolts [μv ]) and slow (α and θ-activity) oscillations of biopotentials by less regular, low-amplitude (5-25 μV) and faster (β-activity) oscillations. The desynchronization of biopotentials in the cerebral cortex usually occurs in response to various stimuli (see Figure 1) but may be caused, for example, by some pharmaceuticals. Desynchronization is one version of the "activation reaction," or the "waking reaction," in which the leading role is played by influences exerted on the cortex of the formatio reticularis. Desynchronization also sets in during particular stages of sleep (the fast phase of sleep, or "fast" sleep). Desynchronization is a manifestation of the orientation reflex.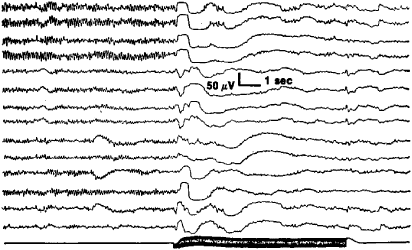 Persistent desynchronization (a so-called flat electroencephalogram) is one indication of disruption of the activity of the central nervous system.
The Great Soviet Encyclopedia, 3rd Edition (1970-1979). © 2010 The Gale Group, Inc. All rights reserved.