Diagonal sheathing
Diagonal sheathing
A covering of wood boards placed over exterior studding at a diagonal with respect to the vertical; provides a base for the application of wall cladding.
Illustrated Dictionary of Architecture Copyright © 2012, 2002, 1998 by The McGraw-Hill Companies, Inc. All rights reserved
diagonal sheathing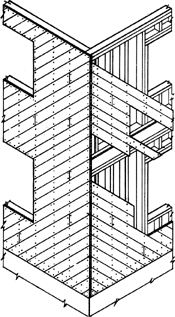 A covering of wallboards nailed to exterior studs or rafters at an angle of approximately 45 degrees.
McGraw-Hill Dictionary of Architecture and Construction. Copyright © 2003 by McGraw-Hill Companies, Inc.