Dihedral Angle
(redirected from Dihedral angles)
Also found in:
Dictionary
.
dihedral angle
[

dī′hē·drəl 'aŋ·gəl

]

(mathematics)

The angle between two planes; it is said to be zero if the planes are parallel; if the planes intersect, it is the plane angle between two lines, one in each of the planes, which pass through a point on the line of intersection of the two planes and are perpendicular to it.

McGraw-Hill Dictionary of Scientific & Technical Terms, 6E, Copyright © 2003 by The McGraw-Hill Companies, Inc.
The following article is from The Great Soviet Encyclopedia (1979). It might be outdated or ideologically biased.
Dihedral Angle
a figure formed in space by two half-planes emanating from a single straight line and also the portion of space bounded by these half-planes (see Figure 1).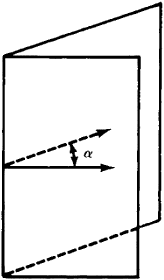 The half-planes are called the faces of the dihedral angle and their common straight line the edge. The dihedral angle is measured by the linear angle, that is, the angle α between two perpendiculars to the edge that emanate from one point and that lie in the different faces or, in other words, the angle formed by the intersection of the dihedral angle and a plane perpendicular to the edge.
The Great Soviet Encyclopedia, 3rd Edition (1970-1979). © 2010 The Gale Group, Inc. All rights reserved.