Direct luminaire
Direct luminaire
Emits over 90 percent of light downward. Recessed lights, downlights, and trof-fers are direct luminaires.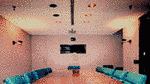 Illustrated Dictionary of Architecture Copyright © 2012, 2002, 1998 by The McGraw-Hill Companies, Inc. All rights reserved
direct luminaire
A luminaire which emits 90% to 100% of its total output below a horizontal plane through it.
McGraw-Hill Dictionary of Architecture and Construction. Copyright © 2003 by McGraw-Hill Companies, Inc.