dirigible
(redirected from Dirigibles)
Also found in:
Dictionary
,
Thesaurus
.
dirigible
or
dirigible balloon:
see airshipairship,
an aircraft that consists of a cigar-shaped gas bag, or envelope, filled with a lighter-than-air gas to provide lift, a propulsion system, a steering mechanism, and a gondola accommodating passengers, crew, and cargo.
.....

Click the link for more information.

.

The Columbia Electronic Encyclopedia™ Copyright © 2013, Columbia University Press. Licensed from Columbia University Press. All rights reserved.

www.cc.columbia.edu/cu/cup/
The following article is from The Great Soviet Encyclopedia (1979). It might be outdated or ideologically biased.
Dirigible
a controlled lighter-than-air craft (aerostat). The main parts of a dirigible are the long gas-filled body (ordinarily filled with hydrogen or helium), which is blunt in the nose section and pointed at the tail for better streamlining; the empennage, which consists of horizontal and vertical crossed fixed surfaces (stabilizers and fins) and movable horizontal vanes for vertical and horizontal control; and one or more gondolas for housing the crew, passengers, motors, and equipment.
A distinction is made among nonrigid, semirigid, and rigid dirigibles. In the nonrigid and semirigid systems (Figures 1 and 2, respectively), the cloth body of the dirigible also serves as an envelope for the gas. Semirigid dirigibles have a metal truss in their lower part to prevent deformation of the envelope. In nonrigid and semirigid dirigibles the outer shape is retained by excess gas pressure, which is constantly maintained by ballonets into which air is forced. In rigid dirigibles (Figure 3), the shape is usually maintained by a metal frame; the gas is contained within the metal frame in sacks made of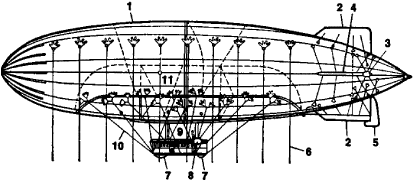 gas-impermeable material. Nonrigid dirigibles vary in volume from 1,000 to 7,000 cu m; semirigid dirigibles, from 8,000 to 35,000 cu m. Rigid dirigibles may be as large as 200,000 cu m. The speed of a dirigible usually does not exceed 100-135 km/hr.
Dirigibles have been used for communications and for supplying remote, inaccessible regions, for reconnaissance and convoying ships at sea, and to search for submarines and minefields.
The Great Soviet Encyclopedia, 3rd Edition (1970-1979). © 2010 The Gale Group, Inc. All rights reserved.
dirigible
[

də′rij·ə·bəl

]

(aerospace engineering)

A lighter-than-air craft equipped with means of propelling and steering for controlled flight.

McGraw-Hill Dictionary of Scientific & Technical Terms, 6E, Copyright © 2003 by The McGraw-Hill Companies, Inc.
dirigible
A large, steerable, self-propelled, and lighter-than-aircraft. Also called an
airship
An Illustrated Dictionary of Aviation Copyright © 2005 by The McGraw-Hill Companies, Inc. All rights reserved