disk crash
Also found in:
Dictionary
,
Thesaurus
,
Wikipedia
.
disk crash
[

′disk 'krash

]

(computer science)
head crash
The physical destruction of a hard disk. Misalignment, faulty parts, contamination with dust, as well as excessive jostling and temperatures, can cause the read/write head to collide with the disk's recording surface. The data are rendered unreadable, and the drive has to be replaced. However, in some cases, the data can be recovered (see data recovery).

The read/write head on a hard disk hovers above the platter's surface at a distance 5,000 times smaller than the diameter of a human hair. The analogy is flying a jet plane six inches above the earth's surface.

A Head Crash Is Destructive
The computer stops dead in its tracks with a head crash and also a regular crash, but "head crashes" are destructive to the hardware, whereas program crashes are not destructive to the machine (see abend).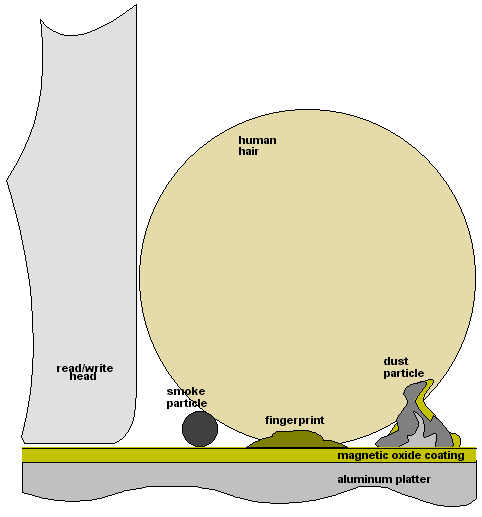 Read/Write Head and Disk Surface
Head crashes used to be much more common years ago. However, they still happen, and that means the metal head scrapes the magnetic coating of the disk platter's surface. Bye bye bits.