drip
(redirected from Dividend reinvestment plan)
Also found in:
Dictionary
,
Thesaurus
,
Medical
,
Legal
,
Financial
,
Acronyms
,
Wikipedia
.
drip
Med
a. the usually intravenous drop-by-drop administration of a therapeutic solution, as of salt or sugar
b. the solution administered
c. the equipment used to administer a solution in this way
drip
[

drip

]

(architecture)

(hydrology)

Condensed or otherwise collected moisture falling from leaves, twigs, and so forth.

(materials)

Oil which comes through the cloth of a paraffin wax press.

Filter drainings too dark to be included in filter stock.

(petroleum engineering)

A discharge mechanism installed at a low point in a gas transmission line to collect and remove liquid accumulations. Also known as blowcase.
drip, headmold, hoodmold, label, throating, weather molding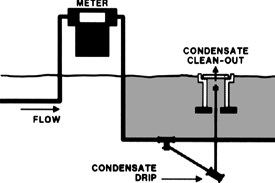 1. The outermost projecting molding around the top of a door or window, to discharge rainwater.
3. A pipe, or a steam trap and a pipe considered as a unit, which conducts condensation from the steam side of a piping system to the water or return side of the system.
4. A container that is typically installed at a low point in a gas piping system to collect condensate (i.e., liquids that may form within the gas system).