draft
(redirected from Draughting)
Also found in:
Dictionary
,
Thesaurus
,
Medical
,
Legal
,
Financial
,
Idioms
.
draft,
in banking, order by one party to another party to pay a stated sum to the person or firm in whose favor the draft is made. It is similar in form to the ordinary bank checkcheck
or cheque,
bill of exchange (see draft) drawn upon a bank or trust company or broker connected with a clearinghouse (see clearing). Upon presentation of a check, the bank or other drawee pays cash to the bearer or to a specified person.
.....

Click the link for more information.

. Often the drawer and the drawee of a draft are the same person. A sight draft is payable immediately on presentation to the drawee; a time draft is payable at a fixed date in the future. A draft is sometimes known as a bill of exchange. It was originally devised to give credit to a customer who intended to pay in the future, but it came to be used to pay foreign debts (see foreign exchangeforeign exchange,
methods and instruments used to adjust the payment of debts between two nations that employ different currency systems. A nation's balance of payments has an important effect on the exchange rate of its currency.
.....

Click the link for more information.

) because it obviated the bother, expense, and risk of transmitting money. Apparently, drafts were used in early Babylon, Egypt, and Rome, but the earliest clear instance of their use is in Genoa c.1156. Drafts are usually used in commercial transactions in which buyer and seller are distant from each other. The seller draws a draft against the buyer of his goods and sends the draft, together with shipping documents, to his bank. The bank or its agent presents the draft to the buyer for his acceptance of the obligation or for payment. If, in the case of a time draft, the buyer accepts the obligation to pay, he will often put a note to that effect, along with his signature, on the draft. Such an accepted draft is known as a trade acceptance and represents a legal commitment on the part of the buyer to pay the amount stipulated.

The Columbia Electronic Encyclopedia™ Copyright © 2013, Columbia University Press. Licensed from Columbia University Press. All rights reserved.

www.cc.columbia.edu/cu/cup/
draft
A preliminary sketch of a design or plan, especially one executed with the idea of potential revision or refinement.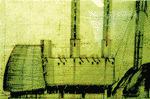 See also: Design drawing

Illustrated Dictionary of Architecture Copyright © 2012, 2002, 1998 by The McGraw-Hill Companies, Inc. All rights reserved
draft
[

draft

]

Also spelled draught.

(civil engineering)

A line of a traverse survey.

(engineering)

In molds, the degree of taper on a side wall or the angle of clearance present to facilitate removal of cured or hardened parts from a mold.

The area of a water discharge opening.

(fluid mechanics)

An air current in a confined space, such as that in a cooling tower or chimney.

The difference between atmospheric pressure and some lower pressure in a confined space that causes air to flow, such as exists in the furnace or gas passages of a steam-generating unit or in a chimney.

(metallurgy)

The act or process of drawing, with dies.

The work or quantity of work drawn.

(naval architecture)

The vertical distance from the top of the keel plate or bar keel to the load waterline.

McGraw-Hill Dictionary of Scientific & Technical Terms, 6E, Copyright © 2003 by The McGraw-Hill Companies, Inc.
draft, Brit. draught
1. A current of air or gases, as an air current which flows through a flue, chimney, or heater; or a localized air current which results in more heat being withdrawn from a person's skin than is normally dissipated.
2.
A narrow, dressed border around the face of a stone, usually about the width of a chisel edge; also called a
drafted margin
or
margin draft
.
McGraw-Hill Dictionary of Architecture and Construction. Copyright © 2003 by McGraw-Hill Companies, Inc.
draft
1. Engineering the divergent duct leading from a water turbine to its tailrace
2. Commerce an allowance on merchandise sold by weight
3.
the usual US spelling of
draught
Collins Discovery Encyclopedia, 1st edition © HarperCollins Publishers 2005