Drilling Rig
(redirected from Drilling tower)
Also found in:
Dictionary
,
Thesaurus
.
The following article is from The Great Soviet Encyclopedia (1979). It might be outdated or ideologically biased.
Drilling Rig
an equipment complex for drilling wells. Drilling rigs are classified as rotary (most widely used), percussion, vibration, flame-jet, and so on according to the method of drilling. A drilling rig includes a drill, derrick (mast), actuator, and mechanized hoisting equipment. Rotary drilling rigs are equipped with pumps and equipment for the preparation, cleansing, and regeneration of drilling fluids (see Figure 1).
Various types of drilling rigs are distinguished, including stationary rigs, for drilling oil, gas, and geological test wells; mobile rigs, which are used mainly in geological prospecting, drilling of artesian wells, and construction work; self-propelled rigs, with the equipment mounted on caterpillar treads or wheels or on a truck, tractor, boat, and so on, which are mainly used for the drilling of blast holes; and portable rigs, for exploratory drilling in hard-to-reach regions.
Drilling rigs used in the mining industry are called boring machines; they differ according to their type of drive (electric, diesel, or hydraulic) and their capacity (light, medium, and heavy-duty). These drilling rigs are differentiated by the depth and diameter of the holes to be drilled, load capacity, engine power, and other factors. The drilling rigs are equipped with control and measurement equipment that provides continuous monitoring of the drilling operation (the axial load on and the frequency of rotation of the rock-crushing tool, the drilling rate, and amount and pressure of the flushing agent supplied to the hole). Automatic control systems have been developed for drilling-rig operations.
Heavy-duty drilling rigs capable of sinking holes down to depths of 8 km are manufactured in the USSR. New rigs are being designed for superdeep drilling (10-15 km).
REFERENCES
Kulichikhin, N. I., and B. I. Vozdvizhenskii. Razvedochnoe burenie. Moscow, 1966.
Vadetskii, Iu. V. Burenie neftianykh i gazovykh skvazhin, 2nd ed. Moscow, 1967.
Danielian, A. A. Osnovnye napravleniia proektirovaniia oborudovaniia dlia bureniia glubokikh skvazhin. Moscow, 1967.
Khanmurzin, N. I. Burenie na verkhniuiu mantiiu. Moscow, 1967.

B. I. VOZDVIZHENSKII and B. N. KUTUZOV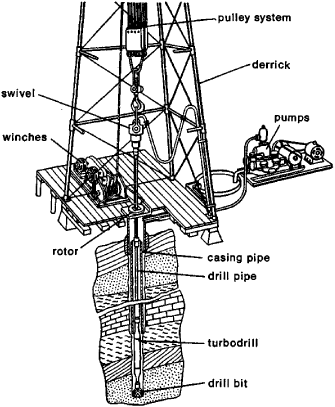 The Great Soviet Encyclopedia, 3rd Edition (1970-1979). © 2010 The Gale Group, Inc. All rights reserved.