fire hydrant
(redirected from Dry fire hydrant)
Also found in:
Dictionary
,
Thesaurus
.
fire hydrant
a hydrant for use as an emergency supply for fighting fires, esp one in a street
Fire Hydrant
a stationary device for obtaining water from an outdoor water-supply system for fire-fighting purposes. There are underground and surface hydrants. Underground hydrants are set in covered wells, and water is obtained by screwing onto the hydrant a shaft with two water outlets for hose connections. One kind of surface hydrant is the column type, which supplies water for fire-fighting and domestic needs; it combines features of a hydrant shaft and a surface hydrant.
fire hydrant
[

′fīr 'hī·drənt

]

(civil engineering)

An outlet from a water main provided inside buildings or outdoors to which fire hoses can be connected. Also known as fire plug; hydrant.
fire hydrant, fireplug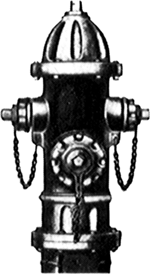 A supply outlet from a water main, for use in case of fire.