e-mail
(redirected from E-address)
Also found in:
Dictionary
,
Thesaurus
,
Medical
,
Legal
,
Wikipedia
.
electronic mail
electronic mail
or
e-mail,
the electronic transmission of messages, letters, and documents. In its broadest sense electronic mail includes point-to-point services such as
telegraph
and
facsimile
(fax) systems. It is commonly thought of, however, in terms of computer-based message systems where the electronic text file that is received can be edited, replied to, excerpted, or even pasted into another electronic document that can be used or manipulated by a
word processor
,
desktop publishing
system, or other
computer program
. Users of such systems, called
store-and-forward
or
mailbox
systems, can broadcast messages to multiple recipients, read and discard messages, file and retrieve messages, or forward messages to other users. Extensions to e-mail allow the user to add graphics and sound to messages, and files can be attached to e-mails. Computer-based messaging can take place on a single computer, a computer
network
, or across gateways linking different computer networks (as through the
Internet
). With the increasing use of e-mail, unsolicited commercial e-mail, known as spam, has become a significant problem. E-mail, especially through attachments, has also become a means for disseminating
computer viruses
and other malicious programs.
Bibliography
See D. Angell and B. Heslop, The Elements of E-Mail Style: Communicate Effectively Via Electronic Mail (1994); N. A. Cox, ed., Handbook of Electronic Messaging (1998); J. Tunstall, Better, Faster Email: Getting the Most Out of Email (1999).
The Columbia Electronic Encyclopedia™ Copyright © 2022, Columbia University Press. Licensed from Columbia University Press. All rights reserved.
e-mail
[

′ē'māl

]

(communications)

McGraw-Hill Dictionary of Scientific & Technical Terms, 6E, Copyright © 2003 by The McGraw-Hill Companies, Inc.
e-mail
This article is provided by FOLDOC - Free Online Dictionary of Computing (foldoc.org)
e-mail
(Electronic-MAIL) The transmission of text messages from sender to recipient. E-mail messages can also be formatted with graphics like a brochure or Web page, an enhancement that many users like, but that creates more spam and a security risk (see HTML e-mail).

Users can send a mail message to a single recipient or to multiple users. In addition, JPEG photos as well as any other type of computer file may be attached to the message (see e-mail attachment). Mail is sent to a simulated mailbox in the organization's mail server until it is downloaded to the "in" mailbox in the user's computer.

The Messaging System and the Client
An e-mail system requires a messaging system, which is primarily a store and forward capability based on the Internet's Simple Mail Transfer Protocol (SMTP). A mail program (e-mail client), such as Windows Mail, Mac Mail, Outlook and Eudora, provides the user interface for mailboxes and send and receive functions. Popular e-mail services such as Gmail and Yahoo Mail are Web based, in which case the Web browser is used as the mail program (see e-mail interfaces).

The Internet Changed It All
The Internet revolutionized e-mail by turning countless incompatible islands into one global system. Initially serving its own users, in the mid-1990s, the Internet began to act as a mail gateway between the major online services such as CompuServe and America Online (AOL). It then became "the" messaging system for the planet. In the U.S., Internet mail is measured in the trillions of messages each year. See e-mail vs. fax, messaging system, instant messaging, read receipt and self-destructing e-mail.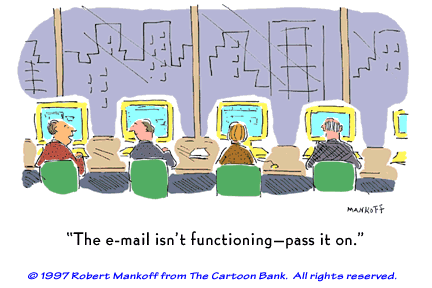 Could They Have Imagined Spam?
When they sent this first message in 1971, could they have imagined the trillions of e-mail messages that would follow in years to come? (Image courtesy of Dan Murphy, www.opost.com/dlm)
The First E-mail on the Internet

In 1971, the first e-mail message was typed into the Teletype terminal connected to the Digital Equipment PDP-10 toward the back of the room in the following picture. The message was transmitted via ARPAnet, the progenitor of the Internet, to the PDP-10 in front. Dan Murphy, a Digital engineer, took this photo in the Bolt, Beranek and Newman datacenter. See ARPAnet.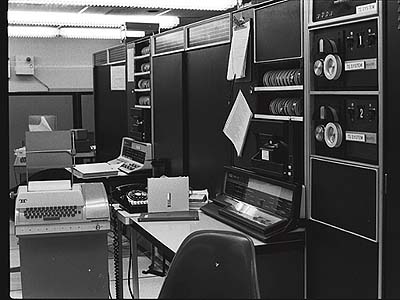 Could They Have Imagined Spam?
When they sent this first message in 1971, could they have imagined the trillions of e-mail messages that would follow in years to come? (Image courtesy of Dan Murphy, www.opost.com/dlm)
Copyright © 1981-2019 by The Computer Language Company Inc. All Rights reserved. THIS DEFINITION IS FOR PERSONAL USE ONLY. All other reproduction is strictly prohibited without permission from the publisher.