VoIP modem
(redirected from EMTA)
Also found in:
Financial
,
Acronyms
,
Wikipedia
.
VoIP modem
(Voice Over IP modem) A device that converts Internet-based voice service from the cable company to the user's telephones. A VoIP modem combines a DOCSIS cable modem and analog telephone adapter in one unit. Officially called an "embedded-multimedia terminal adapter" (E-MTA), the modem converts the cable company signals to packets and vice versa, and the terminal adapter converts the packets to analog voice and vice versa. The adapter also delivers dial tone and manages the call setup.

CableLabs Certification
PacketCable certification from CableLabs ensures that quality of service (QoS) and other critical telephony and real-time functions are supported for delivering multimedia over IP. See analog telephone adapter, VoIP, cable modem and DOCSIS.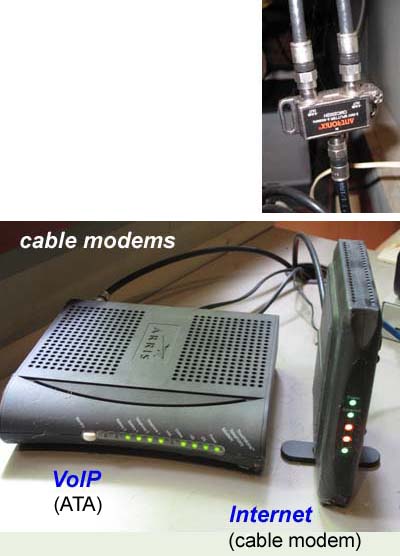 VoIP and Internet Modems
The coaxial cable from the cable company is split (bottom) and wired separately into the VoIP modem and cable Internet modem. One analog phone line from the VoIP modem goes into a small PBX that also connects to three SIP lines for this small business.