EMV
(redirected from EMV '96)
Also found in:
Dictionary
.
EMV
(Europay, MasterCard and Visa) The international standard for smart credit and debit cards that have a built-in microprocessor (chip cards). Governed by EMVCo LLC. (www.emvco.com), the EMV smart card is more secure than a magnetic stripe card.

Not Quite So Secure
EMV cards were never designed to prevent fraud when credit card numbers are stolen and used online ("card-not-present"). However, they were intended to be more secure than fraudulent magnetic stripe cards. Credit card data can be illegally captured at point-of-sale terminals and easily copied onto blank stripe cards with an encoder (see skimming).

EMV initially prevented fraudulent "card-present" transactions because the chip card, which encrypts the data and generates a unique transaction code for each purchase, was considered extremely difficult to duplicate. However, in 2018, crooks in Brazil were the first to figure out how to create valid EMV duplicates. See 3-D Secure.

Insert or Tap
EMV cards are either inserted into the terminal slot, known as "card dipping," or they can be contactless using near field communication (NFC) to transfer data by merely tapping the card on the terminal. Cards may also support both methods. See NFC.

EMV Authorization Methods
In addition to using the card in the merchant's terminal to make a purchase, Chip and Signature requires a written signature like magnetic stripe transactions. Chip and PIN is used for debit cards and may also be used for credit cards. See smart card and gold chipped supercomputer.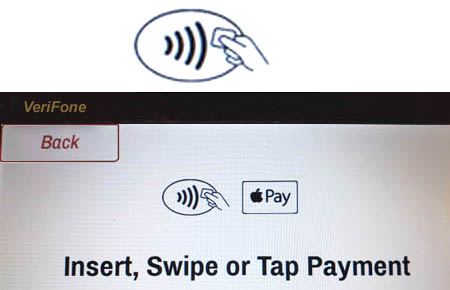 The Chip Card Logo
The icon with the NFC radio waves on this payment terminal shows an EMV card being tapped to transfer the data.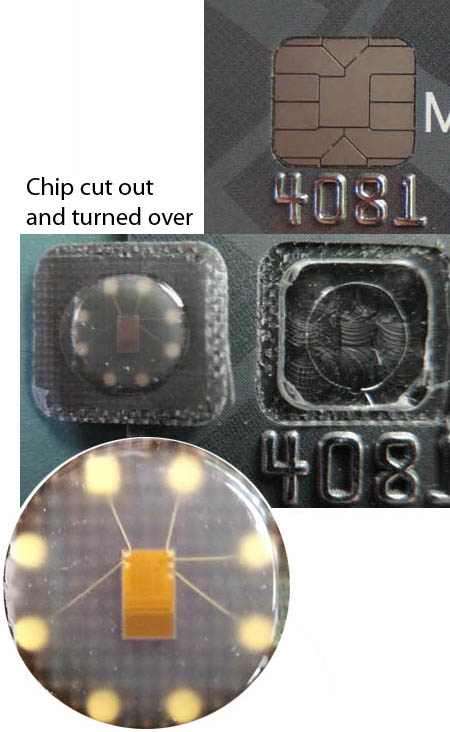 The EMV Chip
In this example, five of the eight contacts on the surface of the plastic card (top) are wired to the chip underneath.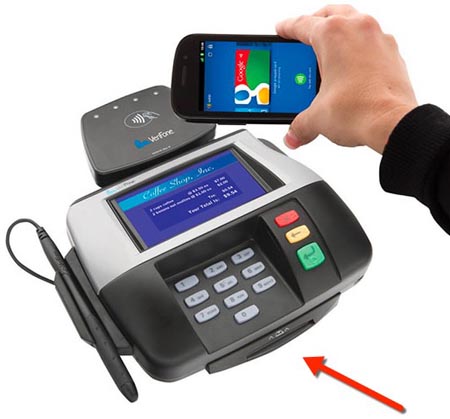 Contact and Contactless
This Verifone reader accepts chip cards (arrow) as well as contactless payments via smartphone. (Image courtesy of Verifone Systems Inc., www.verifone.com)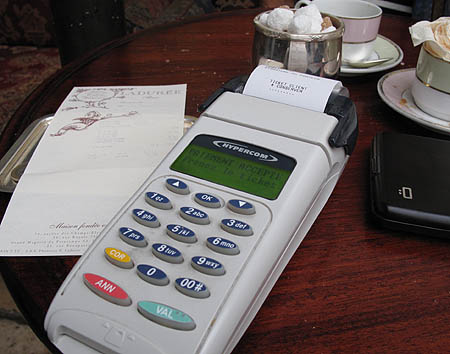 More Secure From the Start
For many years in European restaurants, waiters have been swiping people's credit cards in their presence using a wireless terminal. The card is never away from customers' eyes.
Copyright © 1981-2019 by The Computer Language Company Inc. All Rights reserved. THIS DEFINITION IS FOR PERSONAL USE ONLY. All other reproduction is strictly prohibited without permission from the publisher.