EXIF
(redirected from EXIF reader)
EXIF
(EXchangeable Image Format) Descriptive data (meta-data) in an image file that include the date the photo was taken, resolution, shutter speed, focal length and other camera settings. Developed in 1995 by JEIDA for JPEG images, EXIF data was later added to TIFF, RAW and other formats. Most digital cameras support EXIF and save the data in the file headers. However, when an image is edited, the EXIF data may sometimes be removed by the software.

EXIF Dates May Not Be the File Date
When photos are downloaded from the camera into the computer, the date assigned to the image files may be the date the photos were taken (EXIF date) or the date the photos were downloaded. Photo viewers may sort photos by the internal EXIF date without regard to file dates or name order. For example, Apple's iDevices sort photos by EXIF date. In order to be displayed in a different sequence, they must be rearranged in Apple's iPhoto application on the Mac and then downloaded.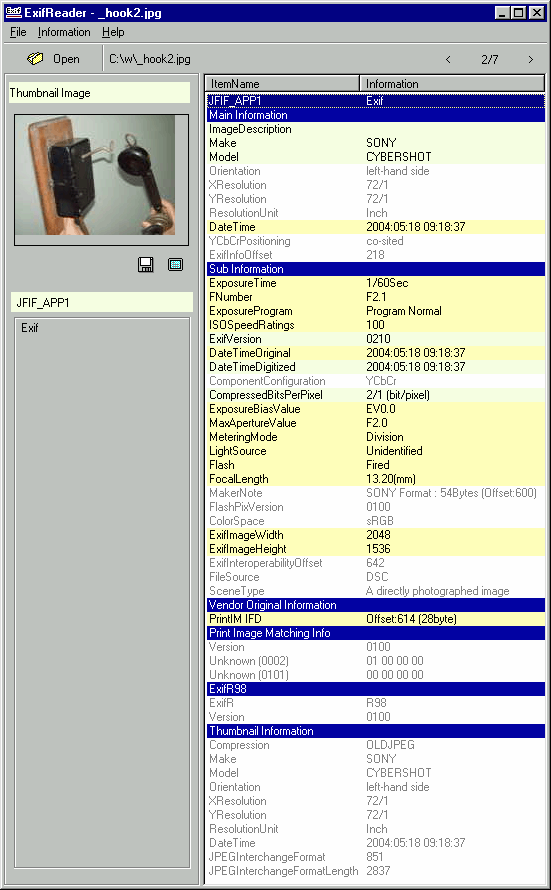 An EXIF Reader
ExifReader, written by Ryuuji Yoshimoto, is a software utility that displays EXIF data and can save it in a separate file. The EXIF format contains many more attributes than are shown here. For example, geographic coordinates that identify where the photo was taken are also supported (see georeferencing).
Copyright © 1981-2019 by The Computer Language Company Inc. All Rights reserved. THIS DEFINITION IS FOR PERSONAL USE ONLY. All other reproduction is strictly prohibited without permission from the publisher.