ground loop
(redirected from Earth loop)
Also found in:
Dictionary
,
Thesaurus
.
ground loop
[

′grau̇nd 'lüp

]

(aerospace engineering)

A sharp, uncontrollable turn made by an aircraft on the ground during landing, taking off, or taxiing.

(communications)

Return currents or magnetic fields from relatively high-powered circuits or components which generate unwanted noisy signals in the common return of relatively low-level signal circuits.

(electricity)

Potentially detrimental loop formed when two or more points in an electric system that are nominally at ground potential are connected by a conducting path.

McGraw-Hill Dictionary of Scientific & Technical Terms, 6E, Copyright © 2003 by The McGraw-Hill Companies, Inc.
swing
i. An uncontrolled turn on the ground either on takeoff or, more often, on landing in a tail-wheel aircraft. Also called a ground loop
ii. To turn a propeller by hand to start the engine.
iii. To calibrate compass deviation by recording its values at predetermined intervals and correcting the deviation to the extent possible.
iv. The sudden yaw of a multiengine airplane when one of the engines, especially the one away from the centerline, fails.
v. In aerial photography, it is the angle measured in the plane of the photograph from the positive y-axis clock-wise to the nadir point.
An Illustrated Dictionary of Aviation Copyright © 2005 by The McGraw-Hill Companies, Inc. All rights reserved
ground loop
A circular path created between the data lines and the ground wires when electronic devices communicate with each other. When systems have earth grounds through different power sources, differences in reference voltages can cause problems for various reasons (see inter-system ground noise). See ground.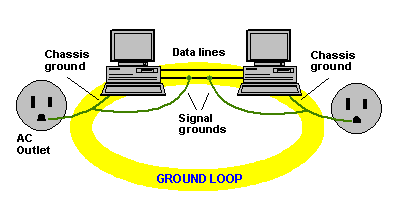 The Ground Loop
The ground loop is created because all the equipment is wired to earth ground.
Copyright © 1981-2019 by The Computer Language Company Inc. All Rights reserved. THIS DEFINITION IS FOR PERSONAL USE ONLY. All other reproduction is strictly prohibited without permission from the publisher.