Eastern Stick style
Eastern Stick style
(1855–1900)

An American residential style characterized by exposed framing overlaid on clapboard in horizontal, vertical, or diagonal patterns to suggest the frame structure underneath. Steeply pitched gable roofs, cross gables, towers and pointed dormers, and porches and verandas are also characteristic. Oversized corner posts, purlins, brackets, and railings complement decorative woodwork produced by the stickwork.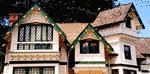 Illustrated Dictionary of Architecture Copyright © 2012, 2002, 1998 by The McGraw-Hill Companies, Inc. All rights reserved
Stick style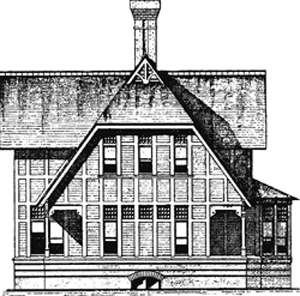 An eclectic style of domestic architecture in the United States primarily from about 1860 to 1890, mainly of
wood-frame construction
; usually asymmetric in both plan and section; has applied ornamentation in the form of wood boards on the exterior surfaces that is intended to express the inner structure of the building. Buildings in this style usually include some of the following characteristics: a façade of clapboard or board-and-batten siding with structural framing materials used as exterior ornamentation or wood boards prominently applied in patterns on wall surfaces; prominent structural corner posts; spacious porches, decorated in wood with simple diagonal braces or brackets; a steeply pitched gable roof, often with intersecting gables and/or cross gables; eaves with a significant overhang, often supported by large diagonal brackets; exposed roof trusses and rafters; corbeled chimneys.
McGraw-Hill Dictionary of Architecture and Construction. Copyright © 2003 by McGraw-Hill Companies, Inc.