Eastlake style
Eastlake style
(1870–1880)

A style characterized by a massive quality, in which posts, railings and balusters were turned on a mechanical lathe. Large curved brackets, scrolls, and other stylized elements are placed at every corner or projection along the facade. Perforated gables, carved panels, and a profusion of spindles and latticework along porch eaves are typical. Lighter elements are combined with oversized members to exaggerate the three-dimensional facade.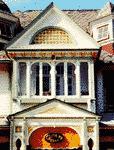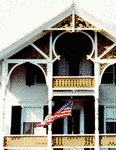 Eastlake ornamentation, Eastlake style
A style not of architecture but of ornamentation, associated with the English designer Charles Locke Eastlake (1836–1906). Decorative elements included: spindlework (especially balusters or posts turned on a lathe), perforated bargeboards and pediments, carved panels, large ornamental fanlike brackets, highly ornamental moldings, and decorative hardware fittings such as door knobs and locks.