Jason
(redirected from Easun)
Also found in:
Dictionary
,
Thesaurus
.
Jason,
in the New Testament. 1 St. Paul's host at Thessalonica. 2 Companion of Paul at Corinth, perhaps the same as (1.)
---
Jason,
in Greek mythology, son of Aeson. When PeliasPelias
, in Greek mythology, usurper of the throne of Iolcus. He was the son of Tyro and Poseidon and the twin brother of Neleus. After his birth his mother married Cretheus, king of Iolcus, and gave birth to Aeson.
.....

Click the link for more information.

usurped the throne of Iolcus and killed (or imprisoned) Aeson and most of his descendants, Jason was smuggled off to the centaur ChironChiron
, in Greek mythology, centaur, son of Kronos. He was a renowned sage, physician, and prophet. Among his pupils were Hercules, Achilles, Jason, and Asclepius. When Hercules accidentally wounded Chiron, the pain was so great that Chiron surrendered his immortality to
.....

Click the link for more information.

, who reared him secretly on Mt. Pelion. Later Pelias promised Jason his rightful kingdom if he would bring the Golden FleeceGolden Fleece,
in Greek mythology, the magic fleece of the winged ram that saved Phrixus and Helle, the children of Nephele and Athamas, from the jealousy of Ino, Athamas' second wife.
.....

Click the link for more information.

to Boeotia. Jason assembled Greece's bravest heroes and together they sailed in the Argo in quest of the fleece. On their journey the Argonauts were seduced by beautiful women, attacked by warriors, buffeted by storms, and challenged by monstrous creatures. Finally the blind prophet Phineus told them how to make their way safely to ColchisColchis
, ancient country on the eastern shore of the Black Sea and in the Caucasus region. Centered about the fertile valley of the Phasis River (the modern Rion), Colchis corresponds to the present-day region of Mingrelia in Georgia.
.....

Click the link for more information.

, where the Golden Fleece was kept. When they arrived there, King Aeëtes demanded that before Jason take the fleece he yoke together two fire-breathing bulls, plow the field of Ares, and sow it with dragon's teeth obtained from CadmusCadmus,
in Greek legend, son of Agenor and founder of Thebes. Misfortune followed his family because he killed the sacred dragon that guarded the spring of Ares. Athena told him to sow the dragon's teeth, and from these sprang the Sparti [sown men], ancestors of the noble
.....

Click the link for more information.

. Aeëtes' daughter MedeaMedea
, in Greek mythology, princess of Colchis, skilled in magic and sorcery. She fell in love with Jason and helped him, against the will of her father, Aeëtes, to obtain the Golden Fleece.
.....

Click the link for more information.

fell in love with Jason and gave him magical protection that allowed him to complete the tasks. In return Jason swore an oath of fidelity and promised to take her with him to Greece. When Aeëtes still refused to relinquish the fleece, Medea revealed its hiding place and drugged the guardian dragon. The Argonauts then fled Colchis with the fleece, pursued by Aeëtes. But Medea killed and cut to pieces his son Absyrtus, scattering the parts of his body in the sea. Aeëtes stopped to retrieve them. In another version, Absyrtus led the pursuit and, when Medea tricked him into an ambush, was killed by Jason.

Jason and Medea stopped to be purified of the murder by CirceCirce
, in Greek mythology, enchantress; daughter of Helios. She lived on an island, where she decoyed sailors and treacherously changed them into beasts. According to the Odyssey,
..... Click the link for more information. at Aeaea, and there they were married. When they returned to Iolcus they found that Pelias had continued his tyrannical rule. Medea persuaded Pelias that he could be rejuvenated by having pieces of his body boiled in a magical brew. She then convinced his daughters that they should perform the task of cutting up their father. Pelias was thus murdered by his innocent daughters. Jason seized the city, but he and Medea were expelled by AcastusAcastus
, in Greek mythology, son of Pelias, cousin of Jason. He accompanied Jason on the Argonaut expedition, but when Jason and Medea murdered Pelias and usurped the throne of Iolcus, Acastus drove them away.
..... Click the link for more information. , the son of Pelias.

They sailed on to Orchomenses in Boeotia, where they hung the fleece in a temple. Then they went to Corinth. There Medea had rights to the throne, and Jason reigned for many years. But he forgot his oath and tried to divorce Medea so that he could marry Creusa, daughter of King Creon. In revenge, Medea, by magic and trickery, burned to death both the father and daughter. Because Jason had broken his oath, the gods caused him to wander homeless for many years. As an old man he returned to Corinth, where, resting in the shadow of the Argo, he was killed when the prow toppled over on him. The story of Jason and Medea appears frequently in literature, most notably in Euripides.

The Columbia Electronic Encyclopedia™ Copyright © 2013, Columbia University Press. Licensed from Columbia University Press. All rights reserved.

www.cc.columbia.edu/cu/cup/
Jason
leader of Argonauts in successful quest for the Golden Fleece. [Gk. Legend: Brewer Dictionary, 500]
---
Jason
leader of the Argonauts. [Gk. Myth.: Payton, 347]
Allusions—Cultural, Literary, Biblical, and Historical: A Thematic Dictionary. Copyright 2008 The Gale Group, Inc. All rights reserved.
JSON
(JavaScript Object Notation) Pronounced "jay-son" or "jeh-sahn," JSON is a text-based data format that is the lightweight alternative to XML widely used on the Web for data interchange. Although JSON is based on JavaScript syntax, and JavaScript native commands are used to read and write JSON data, JSON is not a JavaScript-only format. It is used like XML in any programming environment, and also like XML, it is human readable. See JSON-LD and BSON.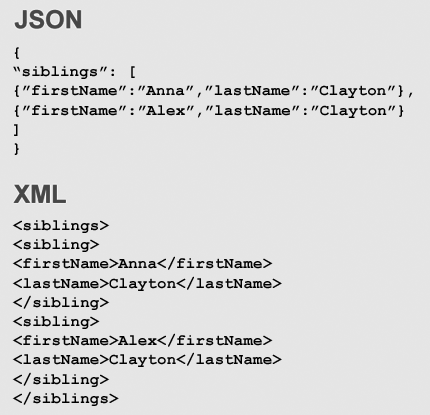 JSON vs. XML
JSON uses key-value pairs to structure data. This simple "array" example is contrasted with the equivalent XML. See key-value pair.
Copyright © 1981-2019 by The Computer Language Company Inc. All Rights reserved. THIS DEFINITION IS FOR PERSONAL USE ONLY. All other reproduction is strictly prohibited without permission from the publisher.