Edging
Also found in:
Dictionary
,
Thesaurus
,
Medical
,
Legal
,
Idioms
,
Wikipedia
.
edging
[

′ej·iŋ

]

(metallurgy)

Controlling the plate width or the edge shape during rolling operations.
Edging
The finishing operation of rounding off the edges of a slab to prevent chipping or damage.
Edging
a thin strip of wood obtained in trimming the edges of a board that has not been cut to size. Since logs do not have uniform thickness, an edging has a thick butt section and a thin top section. Small pieces of lumber are usually produced from the butt section of edgings, and the top part is used as fuel or converted into chips used in the pulp-and-paper and hydrolysis industries and in the production of chipboard. Edgings are also used in the production of laminated wood.
edge molding, edging, edge strip
Any molding on the edge of a door, counter, or other relatively thin member.
---
edging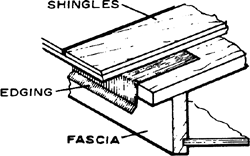 1. Edge molding.
2. A plain or molded strip of metal, wood, or other material used to protect edges of a panel or hide the laminations as in plywood or roof sheathing; an edging strip.
3. In concrete finishing, the process of rounding the exposed edges of slabs to reduce the possibility of chipping or spalling.