effluent
(redirected from Effluents)
Also found in:
Dictionary
,
Thesaurus
,
Medical
.
effluent
1. liquid discharged as waste, as from an industrial plant or sewage works
2. radioactive waste released from a nuclear power station
3. a stream that flows out of another body of water
effluent
[

ə′flü·ənt

]

(chemical engineering)

(civil engineering)

The liquid waste of sewage and industrial processing.

(hydrology)

Flowing outward or away from.

Liquid which flows away from a containing space or a main waterway.
effluent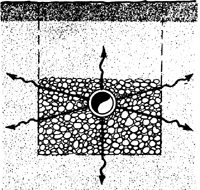 In sanitary engineering, a liquid which is discharged as waste, esp. the discharge from a
septic tank
.