Electric Meter
Also found in:
Dictionary
,
Thesaurus
,
Wikipedia
.
electric meter
[

i¦lek·trik ′mēd·ər

]

(engineering)

An electricity-measuring device that totalizes with time, such as a watthour meter or ampere-hour meter, in contrast to an electric instrument.

McGraw-Hill Dictionary of Scientific & Technical Terms, 6E, Copyright © 2003 by The McGraw-Hill Companies, Inc.
The following article is from The Great Soviet Encyclopedia (1979). It might be outdated or ideologically biased.
Electric Meter
(or electricity meter), an electrical measuring instrument that totalizes the electric energy fed into a network by a generating station or consumed by users over a given time period. The type of measurement performed by electric meters places them among the integrating measuring instruments. Meters for DC circuits use permanent-magnet, moving-iron, electrolytic, or electrodynamometer systems. Induction mechanisms, which record the consumption of both active and reactive power, are the most common system for AC circuits. Meters of all types except electrolytic are miniature electric motors; therefore, they are often called motor-type meters.
The principal difference between electric meters and pointer or luminous indicating instruments is that the moving part in a meter is not restrained by a spring and therefore can rotate freely, with each revolution corresponding to a predetermined value of the quantity being measured.
The design of an induction electric meter for single-phase alternating current is shown in Figure 1. The current and voltage circuits of the meter are connected in series and in parallel, respectively, with the circuit being monitored. Current flowing through the circuits induces alternating magnetic fluxes Фu and ФI in the electromagnets. A torque proportional to the power P arises as a result of the interaction of the flux Фu and the eddy currents induced in the disk by the flux ФI. The number of revolutions of the moving element during the time interval t is proportional to the energy

. The result of the measurement, usually expressed in kilowatt-hours, is displayed on a counter connected to the axis of the disk by a worm drive.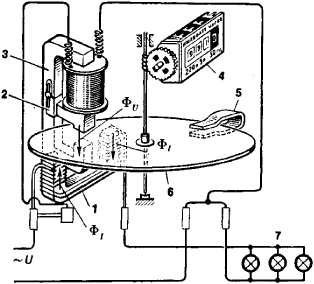 DC meters are used to record the consumption of electric power by electrified railroad cars and by electrolytic cells, and to measure the amount of electricity (in ampere-hours) flowing through a battery during charging. AC instruments are used in residences, and also to record the consumption of electricity by electric motors, lighting networks, and municipal facilities. The measurement accuracy of electric meters is 1–2.5 percent.
REFERENCES
Elektricheskie izmereniia: Sredstva i melody izmerenii. Edited by E. G. Shramkov. Moscow, 1972.
Shkurin, G. P. Spravochnik po elektro- i elektronnoizmeritel'nym priboram. Moscow, 1972.
Kasatkin, A. S. Elektrotekhnika, 3rd ed. Moscow, 1973.
The Great Soviet Encyclopedia, 3rd Edition (1970-1979). © 2010 The Gale Group, Inc. All rights reserved.