Elgin Marbles
Also found in:
Dictionary
,
Thesaurus
,
Wikipedia
.
Elgin Marbles
(ĕl`gĭn)

, ancient sculptures taken from Athens to England in 1806 by Thomas Bruce, 7th earl of ElginElgin, Thomas Bruce,

7th

earl of,
1766–1841, British diplomat. He served on diplomatic missions to Vienna, Brussels, Berlin, and Constantinople.
.....

Click the link for more information.

; other fragments exist in several European museums. Consisting of much of the surviving frieze and other sculptures from the ParthenonParthenon
[Gr.,=the virgin's place], temple sacred to Athena, on the acropolis at Athens. Built under Pericles between 447 B.C. and 432 B.C., it is the culminating masterpiece of Greek architecture. Ictinus and Callicrates were the architects and Phidias supervised the sculpture.
.....

Click the link for more information.

, a caryatidcaryatid
, a sculptured female figure serving as an ornamental support in place of a column or pilaster. It was a frequently used motif in architecture, furniture, and garden sculpture during the Renaissance, the 18th cent., and notably, the classic revival of the 19th cent.
.....

Click the link for more information.

, and a column from the ErechtheumErechtheum
[for Erechtheus], Gr. Erechtheion, temple in Pentelic marble, on the Acropolis at Athens. One of the masterpieces of Greek architecture, it was constructed between c.421 B.C. and 405 B.C. to replace an earlier temple to Athena destroyed by the Persians.
.....

Click the link for more information.

, they were sold to the British government in 1816 and are now on view in the British Museum. Since then, the Greek government has sought the return of the marbles. Although British claims are based on Elgin's purchase of the sculptures, Greece has contested this, and its position has many supporters.
Bibliography
See T. Vrettos, The Elgin Affair (1997).
The Columbia Electronic Encyclopedia™ Copyright © 2013, Columbia University Press. Licensed from Columbia University Press. All rights reserved.
www.cc.columbia.edu/cu/cup/
Elgin Marbles
A collection of sculptures, taken from the Parthenon in Athens by Lord Elgin; preserved in the British Museum since 1816. The finest surviving work of Greek sculptural decoration of the Classical age; the collection includes a number of metopes, fragments of pediment statues, and an extended series of blocks carved in low relief of the cella frieze.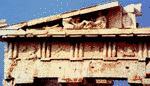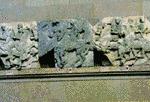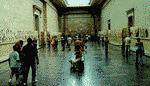 Illustrated Dictionary of Architecture Copyright © 2012, 2002, 1998 by The McGraw-Hill Companies, Inc. All rights reserved